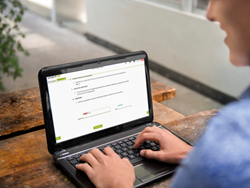 That's why we're pleased to partner with a company like SIGNiX that, from the beginning, has made security, data privacy and document longevity its primary focus.
CHATTANOOGA, Tenn. (PRWEB) October 26, 2016
The Tennessee Bankers Association (TBA) and SIGNiX, the leading provider of cloud-based Independent E-Signature™ solutions, announced today a partnership in which the TBA will endorse SIGNiX's Independent E-Signature™ technology to all member banks.
SIGNiX's Independent E-Signatures™ are based on digital signature technology—a type of electronic signature platform that permanently embeds the legal evidence of a signature into the signed document.
The formal relationship between SIGNiX and the TBA comes as a response to the rising adoption of digital practices among its member banks—and the need for secure, compliant e-signing capabilities.
"The increase of industry regulations and paperwork requirements following the economic crisis put emphasis on improving banks' process efficiency and moving workflows online," said Colin Barrett, president of the Tennessee Bankers Association. "Electronic signatures are an essential part of this evolution, but we know that security, compliance and trust are absolutely critical for our members' adoption. That's why we're pleased to partner with a company like SIGNiX that, from the beginning, has made security, data privacy and document longevity its primary focus."
SIGNiX's Independent E-Signatures™ are based on international published standards for digital signatures— far exceeding requirements set by state and federal legislation. In addition to independent access to permanent legal evidence, the technology deploys identity authentication, tamper-evident technology and comprehensive audit trails to make sure that documents are secure and forever valid.
"Our Independent E-Signatures™ actually carry more weight than a wet ink signature when it comes to intent and legal evidence — and of course they're far quicker and easier to capture than the pen-and-paper process," said Jay Jumper, CEO of SIGNiX. "We're excited to begin working with the TBA to spread awareness and adoption of digital signature technology and make banking transactions of all kinds more efficient and cost-effective."
The Trust Company, a TBA member company based in Knoxville, Tennessee, didn't wait for SIGNIX's partnership with the TBA to begin leveraging its technology. The trust services firm uses Independent E-Signatures™ to expedite transaction agreements.
"Our clients are busy, but they want their trust-related transactions processed quickly. With many of our clients and their beneficiaries located out of town, overnighting documents was neither convenient nor cost-effective," said Daniel Carter, president of the Trust Company. "Once we started using SIGNiX, we reduced our processing time by about a week. It's a better experience for our clients and for our team."   
###
About SIGNiX: 
SIGNiX, the most trusted name in Independent E-Signatures™, makes signing documents online safe and secure with comprehensive legal evidence permanently embedded in each document to eliminate any dependence upon SIGNiX. The company's cloud-based service uses patented technology to give businesses and organizations the most secure and legally defensible e-signatures available at a fraction of the cost of wet ink signatures. SIGNiX's products help the world's leading companies become more efficient, decrease risk and boost profits. For more information, visit http://www.signix.com. You can also follow SIGNiX on Twitter @signixsolutions, LinkedIn, Facebook and Instagram.
About Tennessee Bankers Association:
The Tennessee Bankers Association (TBA) is a trade association established to serve the needs of the state's banks, thrift institutions, and trust companies. Among other activities, the association provides continuing education, develops and monitors state and federal legislative agendas, disseminates information on all facets of the financial services industry, and promotes the public image of financial institutions. Learn more about the TBA at http://www.tnbankers.org or call 615-244-4871.
###