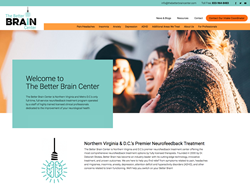 The Better Brain Center, a full-time-full-service neurofeedback treatment program, has launched a new website to help those suffering with symptoms related to anxiety, trauma, depression and other concerns related to brain functioning.
Alexandria, VA (PRWEB) October 05, 2017
In the wake of recent shootings and catastrophic hurricanes that have taken lives, destroyed homes and businesses, and displaced thousands, short- and long-term mental health effects such as depression and anxiety are on the rise. The Better Brain Center, a full-time, full-service neurofeedback treatment program, recently launched a new website, unveiled a new logo, and is well positioned to help sufferers.
"Disaster and violence, experienced or witnessed, takes its toll on men, women and children in various forms," says new Executive Director, Andrew Walen. "Consequences oftentimes include depression, anxiety, anger, and insomnia, to name a few."
The Better Brain Center responds with proven results:

Three out of four clients show marked improvement in symptom reduction and improved brain function as found in the Test of Variables of Attention (TOVA)
76% of its clients with anxiety experienced improvement in their symptoms
77% of its clients with insomnia experienced improvement in sleep
70% of clients at the clinic with migraines experience at least a 50% reduction in the frequency of their headaches
75% of its clients with ADHD experience improvement in ability to focus
Although natural disasters and unforeseen tragedies certainly spark mental health issues, many are part of ones daily life. Depression, for instance, is a common mental disorder. The World Health Organization cites that globally, more than 300 million people of all ages suffer from depression — over 15 million in America alone.
Depression is often reflected in brainwave electrical activity or EEG. Symptoms of depression can be helped with increased blood flow and by changing the brain's EEG. Also known as EEG biofeedback, The Better Brain Center's neurofeedback training assists individuals in improving their overall functioning. It is a non-drug, non-invasive and painless method for training the brain.
"Neurofeedback is being used in many addiction and trauma treatment centers as well as military treatment facilities for traumatic stress conditions," adds the program's founder Dr. Deborah Stokes.
The professionals at The Better Brain Center offer the widest variety of neurofeedback procedures and equipment available in the Washington, D.C, and Northern Virginia region using comprehensive state of the art neurofeedback protocols combined with:

Neurofeedback training
Quantitative EEG (qEEG) brain mapping
Individual counseling
About The Better Brain Center
The Better Brain Center is Northern Virginia and Metro D.C.'s only full-time, full-service neurofeedback treatment program operated by a staff of highly trained, licensed clinical professionals dedicated to the improvement of brain function. Founded in 2000, The Better Brain Center has become an industry leader with its cutting-edge technology, innovative treatment, and proven outcomes in the treatment of symptoms related to depression, anxiety, insomnia, pain/headaches, and ADHD. For more information visit: http://www.thebetterbraincenter.com or 833-964-8483.