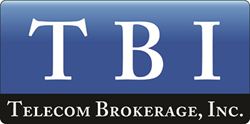 Chicago, IL (PRWEB) June 11, 2014
Telecom Brokerage, Inc. (TBI), one of the nation's largest technology services distributors, earned the Million Dollar Reward for exceptional sales performance from CenturyLink Channel Alliance in 2014.
The program awards $1 million to any agent that grows its business with CenturyLink by $2 million in monthly recurring revenue at any time between 2010 and the end of 2015. TBI won the Million Dollar Reward for the first time in 2013 after meeting the growth target in fewer than three years. TBI grew monthly recurring revenue by an additional $2 million in approximately one year to earn the $1 million purse again in 2014. TBI is the only company to date that has earned a Million Dollar Reward from CenturyLink Channel Alliance.
"Securing this award a second time is a reflection of the tremendous support of our partner community combined with the hard work of the entire TBI team," said Geoff Shepstone, TBI president. "This recognition speaks volumes about the channel's ability to meet its customers' most complex technology needs."
"TBI has a winning formula to help business customers improve their technology strategies with CenturyLink's advanced voice and data networking solutions and hosting and cloud services," said Blake Wetzel, CenturyLink Channel Alliance vice president of sales. "TBI continues to generate strong revenue growth as a member of the CenturyLink Channel Alliance while it helps today's business leaders solve their most pressing IT and communications challenges."
In addition to the Million Dollar Reward, TBI earned CenturyLink Premier Elite Alliance Awards for Highest Revenue Growth and Highest Sales Attainment, in 2014.
Industry analysts recognize the role TBI plays in helping companies strategically evaluate, procure, and implement new technology.
"The role of third-party distributors such as TBI is more vital today than ever as a conduit for facilitating the acquisition of key technologies by businesses of all sizes," said Elka Popova, program director with Frost & Sullivan, a research and consulting firm specializing in growth strategies. "TBI and its national network of partners offer the consultative knowledge and support companies need to make strategic and cost-effective decisions around an array of connectivity solutions from telecommunications to cloud."
About TBI
Telecom Brokerage, Inc., one of the nation's largest technology services distributors, represents more than sixty industry providers. With extensive knowledge and industry expertise, TBI offers a one-stop source for unbiased advice and the most aggressive pricing on telecom services from major providers of voice, internet, data, mobility, cloud, and managed services. Sales agents partner with TBI to simplify quoting, earn high commissions, and benefit from support from an award-winning back-office team. For more information, please visit http://www.tbicom.com