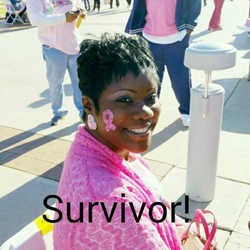 "Hopefully my testimony can help save one life, then this article will not be in vain. Cancer does not discriminate. Breast cancer is not a secret, many women are afraid to share their story"
Flushing, New York (PRWEB) October 13, 2014
We are delighted to announce the opening of Transitions Career Institute in Flushing, New York, a school for Licensed Practical Nursing (LPN). The Institute's administration is staffed by three energetic and positive Masters prepared RN's with over 87 years of nursing experience combined, including Rhonda Savain who is a breast cancer survivor. During the month of October, in recognition of Breast Cancer Awareness, TCI would like to remind everyone of the importance of screening for the disease for both men and women.
Rhonda, who is the Director of Curriculum and Student Development at the Transitions Career Institute can attribute her survivor-ship to early detection and aggressive treatment. As a Master's prepared Registered Nurse Rhonda understands the necessity of education about the disease. "Hopefully my testimony can help save one life, then this article will not be in vain. Cancer does not discriminate. Breast cancer is not a secret, many women are afraid to share their story," says Rhonda.
"The American Cancer Society guidelines for early detection of breast cancer consist of a combination of regular clinical breast examination (CBE) and counseling to raise awareness of breast cancer symptoms for women beginning in their 20s and annual mammography beginning at age 40." http://www.cancer.org/
Breast cancer screening recommendations for men who are at higher risk differ slightly from the recommendations for women.
Men should:

Have a clinical breast exam every six to 12 months, starting at age 35
Consider having a mammogram at age 40 (depending on the findings from this first mammogram and the amount of breast tissue, yearly mammograms may be recommended)" http://www.komen.org
Rhonda diligently had her annual mammograms and in June 2013 a routine mammogram detected a mass in her left breast. A diagnosis of stage 1 grade 3 (early stage, aggressive form) was made. After a bilateral mastectomy with breast reconstruction, seven surgeries, and four chemotherapy treatments from June 2013 to August 2014, Rhonda who has dedicated her life to nursing can continue her life educating future nurses.
Providing a caring and empowered environment for their students and the community is part of what sets Transitions Career Institute apart from other programs. Transitions Career Institute provides opportunities for individuals to learn and develop nursing skills that will allow them to become valued members of the medical profession. TCI seeks to assist students to conquer educational challenges, to make them compassionate and professional members of the healthcare continuum while meeting the needs of people in healthcare facilities and community at large.
The first class got underway in September 2014 and testing is underway for the December 2014 class. Registration for testing for the December class can be done at http://www.tcilpn.com/registrationprocess.html. Transitions Career Institute is a high-quality accessible vocational program. The institute is committed to increasing the nursing work force by meeting the educational needs of their students in addition to the holistic needs of the client population.
TCI is one of the few Institutes with an LPN program in New York City. Enrollment in the LPN program does not have any excessive prerequisites and no waiting list like some college programs. Completion of the program of study leads to a certificate in Practical Nursing. Program graduates are eligible to sit for the State Board licensure examination.
Everyone at TCI takes great pride in delivering high quality education and services to their students. TCI's dedicated and professional staff is committed to its mission of providing comprehensive nursing training to produce professional, dedicated and compassionate nurses.
About Transitions Career Institute (TCI)
TCI is a school for Licensed Practical Nursing and was has been established to offer programs which are of high quality, accessible, and community centered. The administration is staffed by three energetic and positive Masters prepared RN's with over 87 years of nursing experience combined.
Transitions Career Institute
30-50 Whitestone Expressway
Suite 400
Flushing, NY 11354
(718) 362-9500 (Phone)
(718) 362-9508 (Fax)
http://www.tcilpn.org