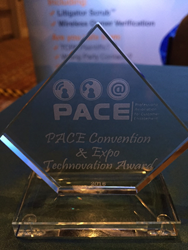 Our goal is to offer cost effective technology to directly decrease our client's liability from class actions. "This product identifies known class action litigants and no company that sells to consumers directly should be without it." Ron Allen, CEO
Santa Rosa, California (PRWEB) April 08, 2016
Contact Center Compliance (DNC.com) has been selected as the winner of the prestigious Technovation award for innovation in compliance for its Litigator Scrub solution at the 2016 PACE Convention & Expo in Orlando, Florida.
Litigator Scrub™ in an innovative TCPA (Telephone Consumer Protection Act) Compliance solution that allows companies to directly address the problem of vexatious litigators preying on the contact center industry and TCPA liability, so that they can avoid class actions and identify potential litigators before a call or text ends up generating a damaging TCPA lawsuit or class action. Litigator scrub had become the latest must have TCPA and DNC solution for companies that operate telephone or text outreach that eliminates over 100,000 known professional litigants.
Implementing comprehensive TCPA compliance across a contact center enterprise can be complicated without a trusted compliance provider. Fortunately, Contact Center Compliance has developed innovative TCPA solutions such as Litigator Scrub combined with wireless and VoIP identification, plus wireless owner verification to avoid wrong number liability under TCPA.
Ronald Allen, CEO says, "TCPA has changed the landscape of business liability for every company that sells anything to consumers. Our goal is to offer cost effective technology to directly decrease our client's liability from legal class actions." Allen continues, "This product identifies known class action litigants in a completely measurable way and no company that sells to consumers directly should be without it."
About Contact Center Compliance (DNC.com)
Contact Center Compliance is an experienced cloud based compliance provider that reduces the risk complexity of TCPA regulations. DNC.com provides several unique compliance solutions including: TCPA Litigator Scrub, TCPA Wireless and VoIP scrubbing, as well as an award winning Compliance Guide with Compliance Training. They also have a wireless owner verification solution to help with wrong party contacts now covered by TCPA. Learn why leading companies trust DNC.com to manage their TCPA liability.