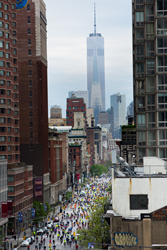 "We look forward to the day when being sustainable is the rule–not the exception–and certification is a thing of the past."
New York, NY (PRWEB) July 31, 2014
Over the past seven months, New York City's leading proponent of cycling as a practical and fun means of transportation and recreation has expanded its mission to include the increasingly important message of sustainability. Cycling is a zero-emissions activity, but a large-scale ride isn't. As such, they've implemented myriad initiatives to make their TD Five Boro Bike Tour—the world's biggest charitable bike ride—as green as it can be. As a result of their efforts, the Tour was awarded Silver-level certification by the Council for Responsible Sport, a nonprofit that recognizes sporting events that promote and demonstrate environmentally and socially responsible measures that help reduce the environmental footprint within the event's host community. In order to become certified, Bike New York:

Partnered with the New York Restoration Project to plant trees in Astoria Park, a Rest Area along the route of the Tour.
Worked with Grow NYC, the City of New York Department of Sanitation, and the NYC Composter's Project to divert 83.8% of waste from landfill.
Collaborated with the City's Department of Environmental Protection to provide fresh NYC drinking water, thereby eliminating the use of more than 4,400 gallons-worth of bottled water.
Provided cyclists with an eco-friendly Rider Identification Kit, comprising an UltraGreen bike plate, reusable helmet cover, and Tyvek bib.
Produced 3,000 organic cotton T-shirts for staff and volunteers.
Donated all leftover food to City Harvest, a local nonprofit dedicated to feeding New York's hungry.
Partnered with a local, 100% wind-powered vendor to print all 35,000 Tour Programs on 100% Forest Stewardship Council-certified paper.
"It has been a pleasure to work with the team at Bike New York on the certification application for the TD Five Boro Bike Tour," said Keith Peters, Executive Director of the Council for Responsible Sport. "Their commitment to producing an event that is both environmentally and socially responsible is remarkable. In a city that struggles to divert even 20% of its waste from landfill, statistics indicate that 83.8% of the Tour's waste was diverted from landfill. That effort took tremendous focus and the ability to collaborate with local agencies, organizations, and countless eager volunteers. In fact, collaborative efforts were a hallmark of the event. Another example: On the social side, event organizers worked closely with InTandem to provide opportunities for blind cyclists to participate."
"Our hope is that this certification will encourage other organizations and events to join us in going green," says Ken Podziba, CEO and President of Bike New York. "We look forward to the day when being sustainable is the rule–not the exception–and certification is a thing of the past."