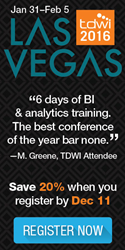 Each TDWI Experience delivers an accelerated, multi-faceted learning opportunity that's about creating immediate value back in the office," said Steven Crofts, TDWI President.
Seattle, WA (PRWEB) November 17, 2015
TDWI, the leading source of in-depth, high-quality education and research on all things data, announces TDWI Las Vegas, January 31-February 5, 2016. At TDWI Las Vegas, data professionals can quickly accelerate their business intelligence and analytics knowledge and expertise with TDWI's new learning Experiences. Each Experience features an end-to-end program designed to bring business and technical leaders and implementers from foundational concepts and best practices to hands-on skills and real-world applications. The event builds on the successful launch of the Analytics Experience at TDWI Boston earlier this year. TDWI Las Vegas will offer four Experiences: Leadership and Innovation, Analytics, Big Data, and Data Management.
"Each TDWI Experience delivers an accelerated, multi-faceted learning opportunity that's about creating immediate value back in the office," said Steven Crofts, TDWI President. "It moves from traditional learning to experiential learning, allowing attendees to immerse themselves beyond just listening and into collaborating and accomplishing."
The TDWI Las Vegas conference program features more than 70 full- and half-day courses, from business intelligence basics to leading-edge technologies—plus all-new workshops, short sessions, hands-on learning, and night school opportunities. All courses are presented by top industry experts and practitioners who possess both real-world experience and theoretical knowledge and are trained to teach.
Co-Located Executive Experience:
The TDWI Executive Summit in Las Vegas, a special program for business and technical executives, will be held jointly with TDWI Las Vegas. The summit, which will take place February 1-2, 2016, offers an interactive experience for business and IT leaders who want to strengthen the impact of analytics across their enterprise and fuel data-driven innovation. It brings together expert speakers, case studies, and panel discussions on best practices to help executives think through what it means to make analytics pervasive and to execute on their initiatives successfully.
To Register:
Event Website: http://tdwi.org/LV2016
Conference attendees who register by December 11, 2015 are eligible for a special discount of up to $855.
For the Media:
Members of the media are invited to cover the event. Interviews with TDWI spokespeople are available upon request.
Media passes are reserved for press representatives and analysts who can verify that their publication or organization regularly covers data warehousing, business intelligence, or related topics. Please note: media passes will not be issued to publishers, sales, marketing, advertising, public relations, or technical support staff from any organization.
To apply for a media pass, please send an email to bwoodbridge(at)tdwi(dot)org with the following information: Name, title, company, e-mail address, telephone number, dates of attendance, publication/website name (including website URL), link to 3 articles/blogs/podcasts published in the last 3 months that cover business intelligence, data warehousing, or related topics.
About TDWI
For 20 years, TDWI has provided individuals and teams with a comprehensive portfolio of business and technical education and research about all things data. The in-depth, best-practices-based knowledge TDWI offers can be quickly applied to develop world-class talent across your organization's business and IT functions to enhance analytical, data-driven decision making and performance. TDWI advances the art and science of realizing business value from data by providing an objective forum where industry experts, solution providers, and practitioners can explore and enhance data competencies, practices, and technologies. TDWI offers five major conferences as well as topical seminars, onsite education, membership, certification, live Webinars, resourceful publications, industry news, and in-depth research. See tdwi.org or follow us on Twitter @TDWI.
About 1105 Media
1105 Media, Inc., is a leading provider of integrated information and media in targeted business-to-business markets, including specialized sectors of the information technology community; industrial health, safety, and compliance; security; environmental protection; and home healthcare. 1105's offerings span print and online magazines, journals, and newsletters; seminars, conferences, and trade shows; training courseware; and Web-based services. 1105 Media is based in Chatsworth, CA, with offices throughout the United States.
###
TDWI Media Contact:
Meighan Berberich
VP of Marketing
425. 277.9139
mberberich(at)tdwi(dot)org