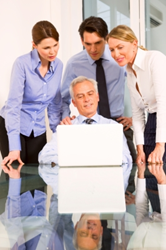 An educator who is planning on using alternative ways to increase income to use during retirement years could find that rental properties are the right investment
Midland, TX (PRWEB) February 12, 2015
American teachers who contribute to company-sponsored retirement accounts in the U.S. can now use the built up funds to purchase rental home properties at the JWB company. The most common teacher retirement plans for real estate are now explained in the posted guide online at http://www.jwbrealestatecapital.com/how-to-use-simple-ira-for-real-estate.
A full-time or part-time teacher who owns a simple IRA or other type of account that can be used to invest in the housing industry could benefit from the posted JWB content. The acceptance of the different American retirement account products for rental homes was set in motion this year and is expected to be a permanent strategy.
"An educator who is planning on using alternative ways to increase income to use during retirement years could find that rental properties are the right investment," one JWB rep said.
The published information for teachers that is now accessible is one new phase of content distribution at the JWB company. Apart from promoting investments in the housing industry, information about build to rent homes has also been published this month on the web and these property types are now available to explore in detail.
"Our portal is more than a simple introduction to our company, and investors can find tips and strategies useful when managing their own investment portfolios," said the rep.
The JWB website can now be accessed through a smartphone or device with a mobile Internet connection. A separate homepage now exists at http://jwbrealestatecapital.com/m that is designed to instantly produce content that is readable across multiple operating system platforms for adult investors.
About JWBRealEstateCapital.com
The JWBRealEstateCapital.com company uses its investment network in the state of Florida to provide income streams to U.S. and foreign clients annually. The company focuses on turnkey homes and new homes to earn passive monthly income for clients. The JWBRealEstateCapital.com company is now providing additional mobile content for investors in 2015 to access from its website to aid in research for housing industry investments.