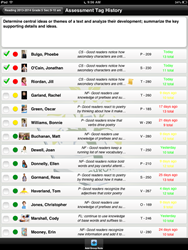 I highly recommend this app to teachers, SLPs or anyone looking for a way to track data.
(PRWEB) December 12, 2013
SmartAppsForSpecialNeeds.com, an organization dedicated to reviewing new applications related to education, parenting and children, recently reviewed the Powerhouse Education's Chronicle app for teachers on the iPad. In their review, Smart Apps For Special Needs rated Chronicle with 5 out of 5 stars, saying that, "it truly helps a teacher with data in all the areas of daily and weekly tracking."
Chronicle was created by a husband and wife team of teachers with over 20 years of combined teaching experience. The app enables teachers to easily implement best practices in their classroom, while seamlessly tracking individual student performance on a daily basis. Within the app, teachers can manage various groups, grading, view student data and quickly share data with other teachers or parents.
Heather Salsman, the special education teacher who reviewed the app on SmartAppsForSpecialNeeds.com, found no major weaknesses on the app but did highlight multiple strengths, finishing up by saying that Chronicle "is worth every penny." Finding nothing she would change about the app, she explains, "I highly recommend this app to teachers, SLPs or anyone looking for a way to track data."
Andy and Ellen Raupp, the founders of Powerhouse Education and creators of Chronicle have taken all of their teaching experience, combined with parent and colleague feedback and suggestions, to build the only app a teacher would ever need. Because of the extensive capabilities, the Raupp's even created a Chronicle YouTube Channel with demonstrations, instructions, overviews and step-by-step walkthroughs of the app.
The Raupps plan to continue the growth and development of Chronicle by working with school districts across the country on further implementation. As Ellen Raupp explains, "We are absolutely thrilled to see such strong feedback and positive reviews coming in. We strive to make teachers more efficient and effective, while simplifying their lives as much as possible. Smart Apps For Special Needs is such a well-respected organization – for them to rate Chronicle with 5 stars is very exciting, and we're so happy they loved it as much as everyone else has!"
About Powerhouse Education
Powerhouse Education, a young company dedicated to advocating best practices in the classroom, was founded by husband and wife teaching duo Andy and Ellen Raupp. Understanding the increasing demands and expectations placed on teachers, Powerhouse Education was formed with the vision of providing teachers with the tools to effectively and more easily implement educational best practices, knowing that empowered teachers will yield stronger, more successful students. For more information about Chronicle, please visit http://www.powerhouseed.com.