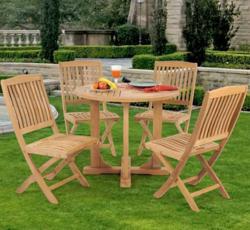 Other than keeping it generally free of spills and debris, teak outdoor furniture really only needs a good scrubbing with soapy water once a year.
(PRWEB) July 01, 2013
HomeThangs.com – the Online Home Improvement Store has made their goal to deliver the right product to the consumer. With that in mind, shopping and home design tips, as well as special product selections are being introduced.
Outdoor furniture made of new, innovative materials like synthetic wicker and powder coated aluminum have become incredibly popular in recent years. But there's a reason that most furniture that's left outside year round – like park benches and picnic tables – are still made of wood. Authentic teak wood in particular is more naturally weather resistant than almost any synthetic material, and along with the product line of teak patio furniture, HomeThangs has introduced a simple guide to the advantages of this tropical material.
Authentic teak wood (Tectona grandis) naturally has an extremely high oil content. This has a myriad of effects on the wood, many of which make it ideal for use outdoors. First and maybe most importantly, teak oil acts as a natural sealant, causing the wood to repel water even without regular maintenance or any finishing at all. The oil also repels bugs and prevents wood rot, and because the wood itself is very dense, it's highly resistant to all kinds of weathering. Teak is also much lighter weight than the second most common all-weather material, wrought iron, and won't leave rust stains on concrete.
Teak isn't immune to the fading that plagues outdoor furniture, but it does have a dual advantage: it fades really beautifully, and is easily restored to its natural color. Teak outdoor furniture will begin to turn gray after a few months, and will fade to a rich silver-gray after a little less than a year outdoors. But although teak can lose its lustrous, rich brown color, it doesn't lose its other beneficial properties over time. To maintain that deep brown, simply apply a fresh coat of teak oil once a year. Reapplying isn't necessary, but will rejuvenate the original color and enhance the wood's water proof qualities.
Not all wood holds up well when left outside. Surface cracks and splits and even splinters occur if some wood is left untreated, while a gummy surface can form if too many layers of sealant are applied without a proper cleaning in between. But while teak will develop very small surface cracks, it won't affect the structural integrity of the furniture, and won't continue to splinter. And because teak outdoor furniture doesn't need to be sealed, stained, or painted, there won't be any buildup on the surface.
Stains, especially grease stains, are probably among the greater concerns when it comes to teak outdoor furniture. Because teak is left untreated, it is somewhat more porous than a sealed wood, and can absorb spilled liquids. Grease can be especially difficult to remove. That said, a light sanding can remove most surface stains, and the great benefit of using an untreated wood table in particular is that while the stains will show in the short term, the natural change and aging of the wood means that they'll fade away given enough time.
Because the natural oils present in teak outdoor furniture serve essentially the same task as synthetic lacquers, stains, and sealants, the amount of maintenance it needs is significantly reduced. The application of additional teak oil once a year will help maintain the original color, but other than keeping it generally free of spills and debris, teak outdoor furniture really only needs a good scrubbing with soapy water once a year. For a deeper cleaning, use a 900-1200 psi pressure washer or a light sanding to smooth out any problem areas.
To find out more about the advantages of natural teak wood outdoor furniture, read the full article here, or check out some of the great outdoor dining sets from Caluco, available at HomeThangs.com.
HomeThangs.com is not only a home improvement superstore, it also provides expert design tips and a comprehensive shopping guide, taking the ideas from professional interior designers, and offering tips to the consumers on how to pick the products to best suit their needs.