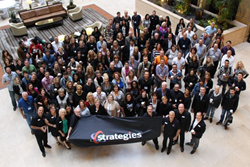 Any salon or spa owner that attended this event is leaving with a rekindled a love and passion for their business.
Itasca, IL (PRWEB) September 30, 2014
Strategies, a leading business coaching and education company for salons, spas and medspas, held their first annual Team-Based Pay Conference on September 21-22, 2014 in Itasca, IL. The event was attended by 158 salon, spa and medspa owners, managers and staff, all looking to explore and/or improve upon a team-based compensation system within their employee-based companies. Roughly 80% of attendees are currently using Strategies' Team-Based Pay model.
"The industry was ready for an event like this," says Strategies Vice-president, Eric Ducoff. "For years we've been teaching that there is a better alternative to commission and booth rental in salons and spas. This event is a celebration of that program. And when you listen to so many of these owners explain how much their businesses are thriving thanks to Team-Based Pay, it's incredibly inspiring. Not only to us — the innovators of the program — but to the professional beauty industry as well."
Breakout topics at the event included "Broadband Pay Scales", "Building Team Urgency and Avoiding Stagnation", "Team Bonus Strategies", "How to Keep Commission Thinking from Creeping Back In", "Performance Reviews" and "Team-Based Culture".
Other highlights included a roundtable discussion from Team-Based Pay champions Mark Gonzales (Mark Pardo SalonSpa - Albuquerque, NM), Robin Gribbin (YOU Salon, Inc. - Ellicott, MD), Pat Heaney (Mango Salon, Richmond, VA) and Richard Hill (Oklahoma City, OK). Each shared insights on how Team-Based Pay helped them build cash reserves, lower payroll percentages while paying service provides more money and implement higher levels of customer service.
Keynote speakers included Jack Stack, author of "The Great Game of Business", and Neil Ducoff, Founder & CEO of Strategies.
"Any salon or spa owner that attended this event is leaving with a rekindled a love and passion for their business," says Dennis Gullo, owner of Moments Salon and Spa in Mt. Laurel, NJ. "The damage that occurs to a team when the leader has no passion or vision is palpable," continues Gullo. "This conference can help them find something they may have thought was long gone."
Sponsors for the Team-Based Pay Conference included Millennium Systems International, Eurisko Design, Kopsa Otte, Demandforce, Ergo, Salon Today, World Class Financial Services and Signature Formulations.
The next Team-Based Pay Conference will be taking place in September 2015 in Chicago, IL. Exact dates and locations will be announced at http://www.teambasedpayconference.com.
To learn more about Team-Based Pay Compensation for salons, spa and medspas, visit the Strategies website.