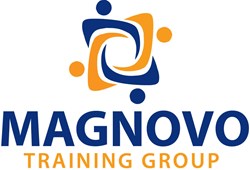 All of our team building workshops inspire positive changes in your organization including improvements to attitudes, behaviors, and relationships
Indianapolis, IN (PRWEB) October 05, 2013
Magnovo Training Group, a company that offers leadership and team building workshops to professional groups throughout the United States, Canada and Europe, has just announced the launch of its brand new website. In addition, the company is now featuring new leadership workshops and team building activities that are designed for the current needs of the company's Fortune 500 clients, as well as small and medium businesses. To celebrate its re-brand opening, Magnovo Training Group has also just released a new logo.
Since the day Magnovo Training Group opened for business, it has strived to help companies get the competitive advantage through the necessary soft skills that are truly required in order to be successful in today's marketplace. The company's creative and experienced team can customize workshops that recognize different leadership styles and are extremely meaningful for all participants.
As an article on the newly-launched website explained, Magnovo Training Group does not specialize in wacky games played on the beach; instead, they focus on worthwhile and effective team building activities and leadership workshops that help to promote problem solving, creative thinking, team work, and breaking down silos.
"All of our team building workshops inspire positive changes in your organization including improvements to attitudes, behaviors, and relationships," the article noted, adding that although the workshops are definitely fun for everyone involved, they offer much more than mere entertainment.
"We realize you're making a significant investment and we want you to have a return. If your team is an intact work group, making the connection back to your workplace with key insights and takeaways is the difference between investing your training dollars and spending them. If your team is a group of clients or association members, customization is the key to a meaningful team building workshop."
Anybody who would like to learn more about Magnovo Training Group is welcome to visit the website at any time; there, they can read in-depth descriptions and information about the various workshops that are available. For example, the "Superior Presentation Skills (TM)" workshop offers people public speaking tips and helps teach employees how to become more confident presenters.
About Magnovo Training Group:
Magnovo Training Group is a professional development and team building company delivering workshops across the U.S., Canada, and Europe. The company offers workshops that focus on leadership, public speaking tips and team building activities. The company has gathered an energized group of soft-skills experts from diverse backgrounds to create custom workshops for their clients. For more information, please visit http://magnovo.com/