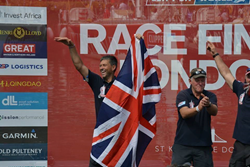 By empowering your crew or staff and playing to their strengths, you give them ownership of what they are doing, which gives better results
Colchester, UK (PRWEB UK) 7 October 2014
The Clipper Round the World Yacht Race gives paying amateur crew members the opportunity to learn new skills, experience different cultures, visit distant countries and meet people from all backgrounds. Adults of all ages train together to ensure that once the race begins, the team is ready to rise to any challenge the ocean chooses to throw in their direction.
Such a diverse team, held together by determination and a common goal, needs strong leadership from someone who can recognise and utilise individual strengths, whilst encouraging confrontation of weaknesses. Someone who can maintain control of the crew in potentially dangerous conditions and hopefully lead them to victory. In the case of the GREAT Britain Yacht that someone was Simon Talbot.
Sailing 40,000 miles and competing in 16 gruelling races, Simon, and his crew took second place overall in the competition. Securing a victory in the final race, Team GREAT Britain became the most decorated boat in the fleet, awarded to the team with the most race wins. Skippering an amateur crew to such a successful level, being absent from business interests, and family for so long, were just some of the difficulties Simon faced. Now he faces the further challenge of settling back to routine, which he does with the same attitude he applies to most aspects of his life.
"I approached the job of skippering with the same ethos that I apply to my work, eliminating myself as a critical part of the process. No-one is available 24/7 and ensuring your staff are equipped with the skills and confidence to cope with all situations allows you to concentrate on strategy development. By empowering your crew or staff and playing to their strengths, you give them ownership of what they are doing, which gives better results. Because I put this strategy in place at NSE before I set sail, it has been much easier to keep myself removed from day to day tasks, and focus on playing a more visionary role within the company," explains Simon. With such innovative leadership, it is easy to see why the Clipper crew and the team at NSE are so successful.
For media enquiries please contact Kate Everett kate(at)thewriteimpression(dot)co(dot)uk on 0845 5272801
About Net Solutions Europe (NSE):
Net Solutions Europe (NSE), the Cloud IT Architect is a leading provider of mission critical IT infrastructures. The company designs, develops and manages some of the UK's most complex IT solutions, working with private and public sector organisations to deliver innovation, resilience and unrivalled levels of service. NSE's passion is creating solutions that exceed its customers' expectations and allow them to evolve and thrive through trusted IT development, implementation and support.
NSE is a Microsoft Certified partner, Novell SUSE Linux partner and EMC velocity partner and has extensive experience in the development and infrastructure design for Applications, Websites and Services on Microsoft, SUSE and Red Hat platforms. Its close alliance with its partners ensures that NSE is at the forefront in the implementation of innovative technology, so its clients benefit directly from the latest developments.
Services Include:

Cloud Services
Managed Hosting
Software Development
Telecoms Solutions