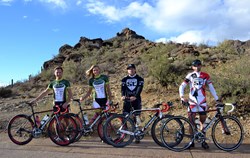 We share Colavita's commitment to cycling and look forward to enhancing the team's legacy with our high-performance carbon bikes.
Pompano Beach, FL (PRWEB) January 14, 2014
Stradalli Cycle, the high performance carbon bicycle manufacturer, is pleased to announce that its sponsorship of the Colavita/Fine Cooking professional women's cycling team has officially begun. For the 2014 season Stradalli will provide the team with road and time trial bikes.
This is the first time that Stradalli is sponsoring a professional women's team. As part of the deal Stradalli is supplying the Colavita/Fine Cooking team with Phantom II time trial bikes and Stradalli RP14 Carbon fiber road bikes.
The Phantom II is one of Stradalli's most innovative time trial frames. To improve the aerodynamics and reduce drag the Phantom II uses a bayonet style fork that cuts through the air. The tube profiles offer incredible aerodynamics by being among the thinnest available but without losing strength, while the seat tube provides great shelter for the rear wheel. By using an an integrated fork, stem, and handlebar design the Phantom II allows the rider to take a near perfect aerodynamic position which decreases drag and improves speed.
The Colavita/Fine Cooking team will also use the new Stradalli RP14. Designed for speed and performance the RP14 was inspired by Stradalli's successful Milano and Trebisacce frames. The RP14 has a redesigned tapered head tube and BB30 bottom bracket. Colavita's bicycles will use Shimano 11 speed DURA-ACE components. Overall the RP14 has been designed for stiffer, highly responsive handling making it equally suitable for criteriums as well as road races.
"We share Colavita's commitment to cycling and look forward to enhancing the team's legacy with our high-performance carbon bikes," said Stradalli Cycle CEO Tom Steinbacher. "For over a decade Colavita has been a great supporter of cycling and we are very proud to sponsor the team during 2014."
For 2014 the team is headed up by 2013 National Criterium Calendar Champion and 2013 USA CRITS Series Individual Champion Erica Allar. She is joined by her 2013 teammates Lenore Pipes and Jessica Prinner. Other members of the 2014 team include Lindsay Bayer, Laura Brown, Jennifer Purcell, Whitney Schultz, Olivia Dillon and Mary Zider.
About the Colavita/Fine Cooking Women's Pro Cycling Team
Colavita USA LLC, which is headquartered in Edison, NJ, is a family-owned business that has been importing and distributing Colavita Extra Virgin Olive Oil for over 30 years. For more than a decade Colavita has been a sponsor of professional cycling and since its debut in 2003 the women's teams have consistently ranked in the top 10 in the US, with #1 rankings in 2010 and 2011.
Fine Cooking is a national food magazine and online publication. Fine Cooking has proven itself in the epicurean magazine category with its 250,000 circulation, 1,500,000 average unique users on FineCooking.com, 15,000 online paid members and numerous accolades.
About Stradalli
The Stradalli Cycle Company is based in Florida and sells worldwide to the keen athlete who demands the best equipment. With years of experience in both high tech manufacturing and design as well as a passion for cycling, Stradalli brings passion and innovation to the road racing and mountain bike markets.
Contact
http://www.stradalli.com