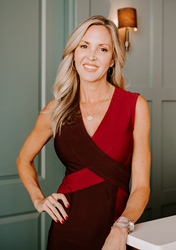 We've achieved success at Team Herr by branding agents according to best practices, producing creative marketing in-house, and investing heavily in a strong back office support and sales team
CINCINNATI (PRWEB) June 20, 2022
Team Herr today announced Private Real Estate Collection and its partnership with Side, the only real estate technology company that exclusively partners with high-performing agents, teams, and independent brokerages to transform them into market-leading boutique brands and businesses. The alliance will ensure that Private Real Estate Collection, a members-only network that will scale $15 million teams into $100 million businesses, is powered by the most advanced platform in the industry.
Private Real Estate Collection was founded by Heather Herr, who is ranked in the top 1% of Cincinnati agents.
Herr, Team Herr, and Private Real Estate Collection have been strengthened for this venture by Front Street Equity Partners, a private equity investment and strategic advisory firm also based in Cincinnati. Front Street Equity Partners is a prolific developer of experiential brands and has extensive experience developing and scaling emerging brands to the national level.
"The partnership with Front Street Equity Partners will help facilitate the next chapter of our growth as we rapidly expand nationwide. To my knowledge, we are the first and only real estate team in Cincinnati to be backed by a private equity company to scale nationwide," Herr said.
In addition to achieving 600% growth for her team in just four years, Herr has brokered record-setting sales in five key Cincinnati neighborhoods, including 992 Marion Ave. Cincinnati, OH 45229, in North Avondale at $1,799,000; 1059 Celestial St. Cincinnati, OH 45202, in Mt. Adams at $3,025,000; and 218 W. 15th St. Cincinnati, OH 45202, in Downtown Cincinnati, sold for $1,975,00. Private Real Estate Collection is modeled after her success with Team Herr, which is set to top $105 million in production this year.
"We've achieved success at Team Herr by branding agents according to best practices, producing creative marketing in-house, and investing heavily in a strong back office support and sales team," Herr said. "We've partnered with Side in Private Real Estate Collection to make our unique blueprint available to the top teams in the U.S."
Side works behind the scenes, supporting Private Real Estate Collection with a one-of-a-kind brokerage platform that includes proprietary technology, transaction management, public relations, legal support, vendor management, infrastructure solutions, and more.
"Side will play an integral role in my objective to become the No. 1 boutique real estate brand builder in the country," Herr said. "Side is tailor-made for building boutique companies like mine because its team understands our desire for freedom in how we run our businesses."
About Private Real Estate Collection
Private Real Estate Collection is a members-only network for the nation's top teams and agents. Its goal is not to grow the largest brokerages, but to scale small boutique brands that serve clients at the highest level with the highest level of personalization. It achieves this with a close-knit community, agent-centric service, and powerful sales, support, and marketing teams. Private Real Estate Collection is headquartered in Cincinnati. To learn more, visit http://www.private-re.com.
About Side
Side transforms high-performing agents, teams, and independent brokerages into successful businesses and boutique brands that are 100% agent-owned. Side exclusively partners with the best agents, empowering them with proprietary technology and a premier support team so they can be more productive, grow their business, and focus on serving their clients. Side is headquartered in San Francisco. For more information, visit http://www.sideinc.com.