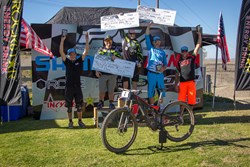 San Diego, CA (PRWEB) January 09, 2014
As proved so many times before in the history of dominant teams and athletes, with practice and commitment come real results. For Team Better Buzz, this played out exactly as planned last Sunday, January 5 at the Shimano/Kenda PCA Enduro Series Race. BMX Legend and Team Better Buzz extraordinaire Chris Powell mopped up first place in the Men's Pro-Enduro Class after claiming an astonishingly fast combined time of 11:50 in the races three stages of technical riding. On his heals flying through the extreme conditions of the Black Mountain course consisting of loose and rocky terrain was Tim Langdon, a passionate Moto crosser who brought his skills from the Moto to the mountain bike just one year ago after a severe injury to his foot. A fully recovered and more fervent than ever Langdon ripped through the race and placed a close 2nd in the Men's Pro-Class behind his Team Better Buzz partner. Just off the final podium and seconds behind the bronze was the incredible Team Better Buzz rider Josh Gallardo taking 4th place in the Men's Expert Class.
With three of the top four placed riders in last weekends Black Mountain Shimano/ Kenda PCA Enduro Race, Team Better Buzz has nothing but visions of victory in their eyes and determination in their hearts. With eager and passionate riders such as the guys in Team Better Buzz making way into the Enduro XC Mountain Bike scene, the sport is taking on a whole new persona. The race events are being flocked to by locals and welcomed out-of-towners by the dozens. As if spending a day in the beautiful landscapes of San Diego weren't enough, the family environment encompassing each race is truly something to brag about. From a bounce house for the kids to food, drinks, vendor pop ups, and the company of good people, the races have become a weekend getaway for many.