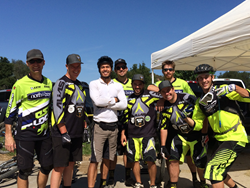 San Diego, CA (PRWEB) June 13, 2014
Although early in the morning on Sunday, June 8th, the boys of Team Better Buzz looked wide eyed and pumped-up for another chance the show the mountain biking scene what the team is truly made of. Not far from the teams meeting spot stood a finely set up Better Buzz Coffee tent complete with enough delicious hot coffee to serve the entire events guests. As the main sponsor of this SoCal Enduro Mountain Biking Race located at Vail Lake Resort in Temecula County, Better Buzz Coffee professionals came equipped with fresh cold drip cold brew coffee in addition to the aromatic hot coffee and all appropriate fixings.
As the last of the riders finished checking in to the race, all with a Better Buzz coffee in hand, the dew of the early morning lifted and the event was ready to come into full swing. The riders trekked up the steep windy dirt road and began to take place on their bikes while staying focused, knowing they would be shredding through intense trails filled with jagged rocks and sharp vegetation.
Shredding is just what the boys of Team Better Buzz did. Present and fully representing Team Better Buzz at this SoCal Enduro Race event were riders Tim Langdon, Josh Gallardo, Mike Owen, Jason Howard, and the newest addition to the team Kyle Doyle.
Tim Langdon, riding in Pro-Class, had an overall successful ride through the 3 stages of the race. Shooting off the start line as though ignited by turbo jets Langdon powered through each sector of the race and placed an overall 3rd in the Men's Pro Class Division.
Making his way onto the top spot of "The Box" and clenching 1st place atop the Sport-Class riders stood the young but promising rider Kyle Doyle. Picked up by Team Better Buzz after recognizing Doyle's passion for riding and undying enthusiasm for mountain biking, Kyle proved himself a worthy addition to the race team after leaving his competition in the shadows.
Team Better Buzz rider Mike Owen also showed that he came prepared to dominate the race taking a sweet 1st place in the 40+ class riders. Owen once again showed what a consistent rider he has been for Team Better Buzz and proves that through his determination and hard work how he will continue to stand on "The Box" race after race.