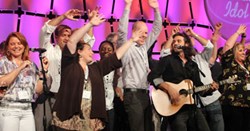 "Our business has been driven by my personal passion for demystifying the creative process and helping adults access their innate creativity."
Chicago, IL (PRWEB) September 20, 2013
Grammy nominated and CMA award winning songwriter, Billy Kirsch, has expanded his acclaimed Team Building Through Song® program to Chicago. Founded seven years ago in Nashville, Kirsch's unique approach to corporate team building activities allow organizations to work with successful songwriters to become more innovative and creative. The team building Chicago office will allow Kirsch to take advantage of the large meetings and convention industry in Chicago and create a strategically located center.
Billy's company, Kidbilly Music, LLC, has grown from a small start-up to include dedicated staff members, a team of experienced award winning songwriter-facilitators and a loyal client base. The opening of the Chicago office is a move aimed at expanding the company even further.
"Our business has been driven by my personal passion for demystifying the creative process and helping adults access their innate creativity." said Billy Kirsch. "We typically spend the year criss-crossing North America to work with clients. While we love to travel, I'm hoping to grow our team building program in Chicago with the opening of our Windy City office."
Presenter Billy Kirsch works with organizations all over the world delivering his popular musical programs that help people rediscover their creativity to become more engaged in their work. Microsoft, The Walt Disney Company, L'Oreal, PricewaterhouseCoopers, Healthways and Vanderbilt University are among the many groups who have benefited from these interactive, highly entertaining presentations. Awards include Grammy & Emmy nominations, Country Music Association Song Of The Year and ACM Song Of The Year.
Tim Paige, VP of HR for Libbey Glass says, "The positive storytelling linked regions, departments and generations together, and highlighted the key themes of our meeting. Working with the Kidbilly songwriters, we produced memorable songs that continue to play in our minds, with priceless choruses we will remember for years to come. It was a lot of fun." Client reaction like this is what motivated Mr. Kirsch to focus all of his energy on creative corporate training initiatives.