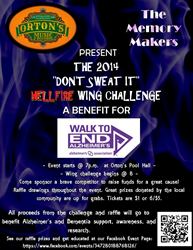 Wilmington, NC (PRWEB) October 14, 2014
WHAT:
In a season of highly anticipated contests and sports fans indulging in an array of spicy fare, Team Memory Makers has organized the "Don't Sweat it" Hellfire Wing Challenge to raise funds for November's Walk to End Alzheimer's. Contestants from Team Memory Makers and a handful of brave supporters will be faced with the challenge of eating 10 Hot Wings without throwing in the towel for a glass of cold milk.
Each contestant will be sponsored per-wing with the proceeds going towards the team's contribution to the Alzheimer's Association. The fiery wings themselves will be devilishly prepared and donated by Chef Tony of the Wilmington Boys and Girls Club.
The challenge will be held downtown at Orton's Pool Room and there will also be an assortment of raffle prizes up for grabs. Attendees can purchase raffle tickets on site for prizes donated from Antonio's Pizza and Pasta, Chops Deli, Elsewhere Salon, Hot Pink Cake Stand, Chef Christa, Reggie's, and RA Jeffreys – just to name a few!
Come on out and support Team Memory Makers and sponsor a contestant!
WHEN:
Monday, October 20th, 2014; Event starts at 7:00 PM; Wing Challenge will begin at 8:00 PM
WHERE:
Orton's Pool Hall, 133 North Front Street, Wilmington, NC 28401
RSVP:
Entry is free and $1.00 raffle tickets will be available at the door. For additional event information or to sponsor a contestant, please contact Kylie Deanne Edgar: (910) 465-9120
###
About Team Memory Makers:
Wilmington natives Kylie Deanne Edgar and Christa Jones-Jones started Team Memory Makers in honor of their grandmothers. Both women suffered greatly from Alzheimer's Disease. Kylie and Christa saw their independence and dignity robbed from them as the disease progressed and Kylie cared for her grandmother for 2 years before placing her in a nursing home. Christa and Kylie hope to increase awareness and fundraising goals by organizing the Hot Wing Challenge and marching in this year's Walk to End Alzheimer's.
http://act.alz.org/site/TR/Walk2014/NC-EasternNorthCarolina?team_id=221862&pg=team&fr_id=5247
About the Wilmington Walk to End Alzheimer's:
Each year more than 400,000 people in over 600 communities nationwide come together for the Alzheimer's Association Walk to End Alzheimer's – the world's largest event to raise awareness and funds for Alzheimer's care, support, and research. For more information on Wilmington's Walk to End Alzheimer's, please visit: http://act.alz.org/site/TR?fr_id=5247&pg=entry
About 101 Mobility
101 Mobility is a full-service sales, service, and installation provider of a complete line of mobility and accessibility products and equipment, including stair lifts, auto lifts, ramps, porch lifts, patient lifts, power wheelchairs, scooters and more. Short and long-term rentals are also available for home, office, and institution. By working with patients to identify which home health care devices best suit each individual's needs, 101 Mobility provides an alternative to group homes and rehabilitation centers by increasing accessibility and allowing clients to live self-sufficiently in their homes.
For more information, please visit: http://101mobility.com/