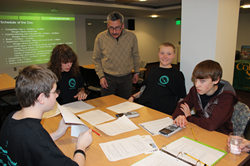 "I like the TEAMS competition because of its focus on problem solving and critical thinking." -Greg Byrum, physics teacher, Lima Central Catholic High School
Reston, VA (PRWEB) February 13, 2014
Our nation's infrastructure earned a grade of D+ from the American Society of Civil Engineers in its latest Report Card for America's Infrastructure. Though the report card was issued nearly one year ago, its profound messages and powerful statistics live on for students nationwide who are using it as one tool to prepare for a STEM-enrichment competition, managed by the Technology Student Association.
The annual theme-based competition, TEAMS: Tests of Engineering Aptitude, Mathematics, and Science, challenges middle school and high school teams of students to collaboratively address scenarios that bridge classroom study in science and mathematics with real-word engineering problems.
This year's TEAMS theme is modeled on the National Academy of Engineering Grand Challenges "Restore and improve urban infrastructure." The ASCE report card is just one of several preparation resources provided to students and their coaches in becoming familiar with the problems facing our society.
This week, the TEAMS competition began. Nationwide, approximately 10,000 students, consisting of more than 1,000 teams, are expected to meet for one day during the competition window, which runs through March 22. Students will be answering multiple choice and essay questions related to scenarios involving the electrical grid, green space preservation and development, pollution control, sustainability, transportation, virtual reality for urban design, and water/sewer systems.
In examining this report card, students are discovering, for example, that energy earns a D+ grade. "America relies on an aging electrical grid and pipeline distribution systems, some of which originated in the 1880s. Investment in power transmission has increased since 2005, but ongoing permitting issues, weather events, and limited maintenance have contributed to an increasing number of failures and power interruptions," according to the report.
Water – its transmission and quality – could take a staggering toll on the nation's economy. The ASCE rated drinking water with a D, reporting, "There are an estimated 240,000 water main breaks per year in the United States. Assuming every pipe would need to be replaced, the cost over the coming decades could reach more than $1 trillion, according to the American Water Works Association (AWWA)."
Such disclosures can be a real eye-opener for students. "This competition is a wonderful opportunity for students to see the connection between classroom learning with the development of practical solutions to problems from an engineer's perspective. It can really be an 'aha' moment for a student that may be thinking about a career in engineering," according to W. Speed, a TEAMS coach in Hawaii. Speed, an engineering teacher at Waipahu High School in Waipahu, Hawaii, says he is using the report for writing assignments. In addition, the report card will be a resource for comparing ASCE's analysis of Hawaii's infrastructure with that provided by the state itself.
Greg Byrum, a physics teacher with Lima Central Catholic High School in Lima, Ohio, says, "I like the TEAMS competition because of its focus on problem solving and critical thinking. These are core skills needed by students in preparing for their future. TEAMS poses challenges that are similar to the types of questions that I assign to my students on a daily basis."
"Students are the builders and caretakers of our nation's future infrastructure, so the American Society of Civil Engineers welcomes this opportunity to raise awareness among our nation's youth about the grave challenges that face our country and themselves as they begin to consider their professional future," according to Patrick J. Natale, P.E., CAE, F.ASCE, executive director at ASCE.
###
About the Technology Student Association (TSA)
TSA is a national organization devoted exclusively to the needs of students interested in science, technology, engineering, and mathematics (STEM). Open to young people enrolled in or who have completed technology education courses, TSA's membership includes over 190,000 middle and high school students in 2,000 schools spanning 48 states. TSA partners with universities and other organizations to promote a variety of STEM competitions and opportunities for students and teachers. TSA is supported by educators, parents and business leaders who believe in the need for a technologically literate society. From engineers to business managers, our alumni credit TSA with a positive influence in their lives. Visit http://www.tsaweb.org for more information.
About the American Society of Civil Engineering (ASCE)
Founded in 1852, the American Society of Civil Engineers (ASCE) represents more than 145,000 members of the civil engineering profession worldwide and is America's oldest national engineering society. Its mission is to provide essential value to its members and partners, advance civil engineering, and serve the public good. In carrying out that mission, ASCE advances technology, encourages lifelong learning, promotes professionalism and the profession, develops civil engineer leaders, and advocates infrastructure and environmental stewardship.
ASCE's 2013 Report Card for America's Infrastructure, graded America's cumulative GPA for infrastructure at a D+. The Report Card app for Apple and Android devices includes videos, interactive maps, and info-graphics that tell the story behind the grades, as well as key facts for all 50 states. For more information, visit http://www.asce.org.