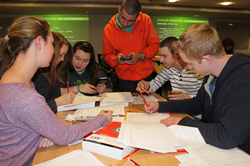 Reston, VA (PRWEB) January 15, 2014
Two champions of science, technology, engineering, and mathematics (STEM) education have continued their sponsorship of an annual competition for middle and high school students designed to stimulate interest in, and access to, innovative STEM study. The competition presents students with real-world problems experienced by engineers.
TEAMS: Tests of Engineering Aptitude, Mathematics, and Sciences is a program administered by the Technology Student Association (TSA). TEAMS provides hands-on STEM enrichment allowing students to imagine creative, practical solutions to genuine engineering challenges.
This year's theme is "Engineering Tomorrow's Cities." Nationwide, more than 1,000 teams of students will meet for one day during the competition window between February 10 and March 22, 2014. Teams will answer multiple choice and essay questions reflecting scenarios based on the National Academy of Engineering's Grand Challenges for Engineering "restore and improve urban infrastructure."
Students will explore the impact that engineers can have in the urban design process. Participants will consider solutions to challenges involving the future of the electrical grid, green space planning, pollution control, sustainability, transportation, and waterway/sewer system development. Team responses are scored, and teams are ranked at the division and state level. Top-ranking schools will compete for Best in Nation honors at the national TSA conference, which will take place in June in Washington, D.C.
CH2M HILL is a global project delivery company focused on helping clients build a better and more sustainable world. According to CH2M HILL Foundation Executive Director Ellen Sandberg, "The TEAMS program is an ideal venue for students of all ages to engage in real-world engineering challenges. The infrastructure in our cities around the world are facing enormous challenges and the students of today will be the solutions providers of tomorrow."
Rockwell Collins is a leader in communication and aviation electronic solutions. The company believes in inspiring the next generation of engineers and innovators, and in building strong, vital communities as a way to ensure the success of its business. According to Linda Snow-Solum, Senior Director, Engineering Infrastructure, Development & Lean, "The TEAMS program engages students in the wide variety of skills that are a part of the engineering profession. Students have the opportunity to experience learning in a collaborative environment and develop leadership skills – all critical aspects of future success."
Nonprofit program partners are ITEEA/EbD (the International Technology and Engineering Educators Association/Engineering byDesign™), NCTM (National Council of Teachers of Mathematics), and PLTW (Project Lead the Way).
Rosanne White, executive director of the Technology Student Association, explains, "The Technology Student Association is for students engaged in science, technology, engineering, and math. We appreciate the support we receive from all these partners in helping us provide a program that will prepare the next generation of engineers."
###
About the Technology Student Association (TSA)
TSA is a national organization devoted exclusively to the needs of students interested in science, technology, engineering, and mathematics (STEM). Open to young people enrolled in or who have completed technology education courses, TSA's membership includes over 190,000 middle and high school students in 2,000 schools spanning 48 states. TSA partners with universities and other organizations to promote a variety of STEM competitions and opportunities for students and teachers. TSA is supported by educators, parents and business leaders who believe in the need for a technologically literate society. From engineers to business managers, our alumni credit TSA with a positive influence in their lives. Visit the Technology Student Association website for more information.
About CH2M HILL
Headquartered near Denver, Colorado, USA, employee-owned CH2M HILL is a global leader in consulting, design, design-build, operations, and program management for government, civil, industrial and energy clients. The firm's work is concentrated in the areas of water, transportation, environmental, energy, facilities and resources. With US$7 billion in revenue and 28,000 employees, CH2M HILL is an industry-leading program management, construction management and design firm, as ranked by Engineering News-Record. Find CH2M HILL online at ch2mhill.com, twitter.com/ch2mhill and facebook.com/ch2mhill.
About Rockwell Collins
Rockwell Collins is a pioneer in the development and deployment of innovative communication and aviation electronic solutions for both commercial and government applications. Our expertise in flight deck avionics, cabin electronics, mission communications, information management, and simulation and training is delivered by a global workforce, and service and support network that crosses 27 countries. To learn more, please visit http://www.rockwellcollins.com.