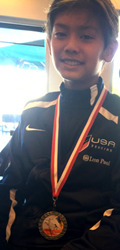 Zak Latif is an American fencer who competed in his first international event at the age of 9 as part of the U.S. men's fencing team in the Pan American Games.
(PRWEB) September 04, 2016
9 year old fencer Zak Latif took an impressive silver in the Men's Youth EPEE event at the 2016 Pan American Games Youth and Veteran Championships. The event, held in Ponce, Puerto Rico, attracted international fencers from countries including the United States, Argentina, Peru, Puerto Rico, Colombia, Chile, Brazil and Venezuela. Zak went undefeated through the pools on the way to finishing second. Considering that the tip of the fencing blade is the second fastest moving object in the whole of sport, trailing only a marksman's bullet, even junior fencing can be a nerve-racking prospect, making Zak's achievement all the more impressive.
Zak Latif has been fencing competitively for a year. In this time, Zak has already appeared in major competitions, representing Team USA in the Pan American Games and coming home a very respectable 5th in the Leon Paul Junior Series in London, England. He recently underwent a tour of Europe to help develop his skills, learning at the Leon Paul Fencing Centre in London, the Olympiastützpunkt Tauberbischofsheim in Germany, and Budapesti VSC Fencing in Budapest, Hungary. Beginning March of 2016, Zak has trained under the expert tutelage of coaches Margo Miller and Carla Corbit of the Beverly Hills Fencers Club. When he is not fencing, Zak is passionate about outdoor sports like downhill skiing and surfing.