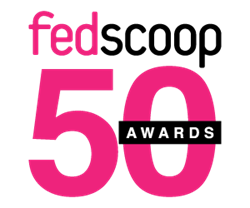 Integrating OBIEE and OEID into a single, unified interface, allows users to work more efficiently and increase performance
McLean, VA (PRWEB) January 22, 2015
After more than 50,000 votes were counted on thousands of nominees, FedScoop celebrated federal IT excellence by announcing its 2014 FedScoop 50 award winners throughout government and industry. FedScoop honored the 50 most renowned Federal IT champions over the past year in front of hundreds of government and industry leaders at the Hay-Adams hotel in Washington, D.C.
The Tech Program of the Year award went to the U.S. Army's Enterprise Management Decision Support (EMDS) program. This award is given to the most influential technology program that led to cost savings, efficiencies, and partnerships between agencies.
The innovative Army program is a BI/Analytics capability that uniquely utilizes both Oracle Business Intelligence Enterprise Edition (OBIEE) and Oracle Endeca Information Discovery (OEID) to provide a one-stop shop for Army decision-makers to visualize data from many disparate data sources, in near real-time. The U.S. Army's EMDS program is the first application to successfully integrate both OBIEE and OEID into a single, unified interface.
EMDS is the readiness and resourcing system Army Leaders can rely on; anytime, anywhere. Users immediately can see the benefit of turning to one Army enterprise system for historic, current, predictive and future readiness and resourcing data. No other database system provides all of the tools the Enterprise Management Decision Support system offers in one automated software system solution.
As the lead development team to the U.S. Army's EMDS program, NuWave Solutions worked tirelessly to integrate OBIEE and OEID. "Integrating OBIEE and OEID into a single, unified interface, allows users to work more efficiently and increases their performance," says NuWave Chief Technology Officer and lead developer, Rob Castle, "This interface which NuWave calls the Vilocity Analytic Framework is highly customizable with many out-of-the-box and add-on capabilities."
The Vilocity Analytic Framework enhances the users' experience and minimizes the learning curve across both tools by combining the two into a consistent application paradigm with a common look and feel, navigation system, and filtering scheme. With the Vilocity Framework users can answer questions they know to ask (i.e. what do my key performance indicators look like) and make new discoveries (i.e. customer sentiment on product X is dropping) all in one place.
To discover more about the Vilocity Analytic Framework click here or email Ryan Legge, VP of Public Sector or email Jim McHugh, VP of Private Sector from our website here.
About NuWave Solutions
NuWave is an IT services firm specializing in analytics, business intelligence, data integration, data warehousing, development and system integration. NuWave has delivered customer focused solutions in the public, private, and national security sectors for 15 years and understands how to best integrate existing and emerging technologies and develop solutions that continually exceed expectations.
For more information on how NuWave can serve your needs and help you build on your success, please visit our website. To learn about business analytics and intelligence, data integration and warehousing, Oracle BI and Endeca, and Vilocity check out the NuWave Blog.