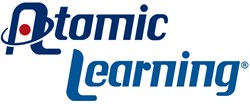 Little Falls, MN (PRWEB) September 30, 2013
Atomic Learning recently added content to their ed tech training library that includes training to help educators flip their classrooms.
Flipped teaching has become a popular practice in which students learn new content online by watching videos, usually at home, and the classroom time then offers teachers more personalized guidance and interaction with students, instead of lecturing.
The online training series from Atomic Learning provides an overview of what flipped learning is and provides tips and tricks for creating videos for use when flipping a classroom. The training can be found at http://www.atomiclearning.com/flipped-classroom-training.
Atomic Learning offers an abundant selection of training resources to teach educators and students the latest in technology. For more information on Atomic Learning and for pricing information, please contact Atomic Learning at (866) 259-6890 or atomiclearning.com/more.
Contact:
Kathy Sell, Director of Marketing
866.259.6890, ext. 164
ksell(at)atomiclearning(dot)com
About Atomic Learning
Founded in 2000 by a group of technology educators, Atomic Learning serves over 16 million individuals in more than 45 countries worldwide. Atomic Learning offers a cost-effective just-in-time professional development, technology integration and support solution that empowers educators to effectively utilize technology to positively impact student achievement. As your ed tech training partner, Atomic Learning helps teachers develop college and career-ready students with 21st century skills-based training. Visit us today at http://www.AtomicLearning.com.