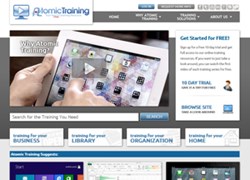 Little Falls, MN (PRWEB) October 31, 2013
Online software training provider, Atomic Training, has launched their new site interface. This modern website interface, makes it easier for customers and potential customers to find the training and information they are looking for. The changes that were made to the site focused on the section of the site that users and/or potential users see before logging in. Earlier this summer, Atomic Training had made enhancements to the post-login section of the site, and wanted to continue the new look across the entire platform.
The updated homepage showcases free sample videos on popular software applications, along with a short overview video of what this online software training solution. The site now also features new webpages such as Business Staff Training, Non-Profit and Organization Training, Public Library Training, and more. These new pages allow users to get a better understanding of Atomic Training and how it can be utilized in different industries.
Atomic Training's online technology training solution covers more than 150 common software applications, including Microsoft® Office®, Adobe® Creative Cloud®, Google® Docs and more. Customers and potential customers are now be able find the information they are looking for even easier with this newly updated interface.
Take a look around Atomic Training's updated website at http://www.AtomicTraining.com.
For more information, contact:
Clay Moore
866-259-6890 Ext. 221
cmoore(at)atomictraining(dot)com
About Atomic Training:
Atomic Training, now partnered with Geek Squad, provides on-demand software training to help businesses, organizations, and individuals gain greater confidence and success in using the technology that is part of their professional and personal lives. They offer thousands of how-to video tutorials on over 150 software applications. For more information, please visit: http://www.atomictraining.com.