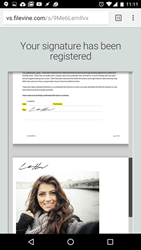 ...it literally puts the contract into [clients'] hands.
Chicago, IL (PRWEB) March 16, 2016
As part of its ABA Techshow presentation this week, popular case management software Filevine announced the release of a new patent pending technology which allows clients to sign important documents through text messaging rather than through email or a specialized app. The most talked-about part of this software, however, is the unique security feature: verify your identity with a "selfie."
"Believe it or not, many people still don't have email," says Filevine CEO Ryan Anderson. "When those people want to sign documents you either have to deliver them in person, or find another way to securely connect with them. The Vinesign feature not only accomplishes that, it literally puts the contract into their hands instead of letting it sit unopened in an email inbox."
The software sends a text message to the client's phone and invites them to visit a secure website where they can sign their screen and take a selfie to verify their identity. The documents never pass through email or an insecure connection and don't require an email address to sign.
"This is actually not the first major text-related feature Filevine has created," Anderson reports. "Filevine is the only major case management software that allows you to send and receive texts from within the case files. For law firms who deal with a large number of clients, texting was an essential feature that helped alleviate phone traffic in the office. The Vinesign feature was a natural evolution of that capability."
Filevine has made waves in the typically stodgy legal tech world with its breakneck feature development speed, releasing a major new feature of its software almost every month since leaving beta in 2014; an impressive feat in an industry where "integrations" with existing software are more common than new features. Anderson asserts additional innovations are coming soon that will allow Filevine to claim even more market share in the world of legal tech.