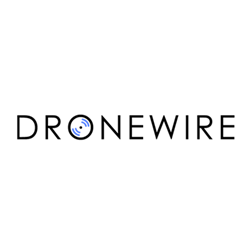 We aim to provide one of the most extensive online resources for drone operators and hobbyists
Prince William County, VA (PRWEB) October 15, 2015
DroneWire launched its new online drone news service this week, offering 24-hour coverage of the emerging business and consumer UAV industry. The digital publication features a comprehensive assessment of news, events, and trends that are important to industry insiders, commercial operators, and enthusiasts.
Created by a team of technology and publishing veterans, DroneWire's mission is focused on the U.S. market, but the company tracks global issues that could affect the growing Unmanned Aerial Systems (UAS) industry as a whole.
DroneWire's website uses a proprietary content aggregation platform to compile a daily index of hundreds of new stories, articles and videos, which are then individually reviewed by editors before being distributed to the company's web and social media followers. "We've been working on this project since March, and are excited to finally have our platform in place and operational. We aim to provide one of the most extensive online resources for drone operators and hobbyists," said Brad Caricofe, President.
DroneWire plans to complement their offerings with original articles, interviews, product reviews, and case studies. The company's website also features several indexes that offer information about drone manufacturers, drone operation companies, UAS organizations, and aviation attorneys that specialize in drone matters.
For more information, visit their new website at http://dronewire.com.
About DroneWire
DroneWire is a comprehensive online resource for the emerging commercial and enthusiast small Unmanned Aerial Systems (sUAS) industry. They are a leading digital publisher of UAV news, insight, and opinion. For more information, call 571-308-9978, or visit http://dronewire.com. Follow DroneWire on Facebook at http://fb.com/dronewire or on Twitter @thedronewire.