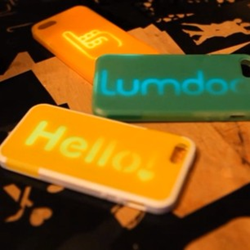 Washington, DC (PRWEB) December 03, 2014
The "Lumdoo" Phone Case was featured on NewsWatch as part of its monthly Tech Report, which features the latest and coolest technology products available to consumers. Mallory Sofastaii, a technology expert and reporter for NewsWatch, conducted the product review and shared with viewers how the back panel of the phone case glows in the dark and can be written on with a light pen.
One of the largest markets in the mobile industry is phone cases. But there is little difference case to case, until now. Smart Phone owners looking for a unique and cool phone case should check out Lumdoo.
Compatible with all iPhones from the 5 on up to the 6 Plus and the Galaxy S4 and S5, Lumdoo is a highly durable high quality case with a shock absorbing frame made from thermoplastic polyurethane. The back protects the phone from scratches but it also glows in the dark. Imagine what this would look like in a club, a bar, or just out at night with friends. Lumdoo also offers a light pen that allows phone owners to write or draw on the phone back.
It's currently selling in Europe, Australia and Hong Kong. The price of the Lumdoo phone case is only $29.99. For more information, visit http://www.Lumdoo.com. To purchase one, visit Amazon.com and search "Lumdoo".
About NewsWatch
NewsWatch is a weekly 30-minute consumer oriented television show that airs on the History Channel, FYI Network, and ION Network. NewsWatch regularly features top technology products and services, mobile applications for iOS, Android, and Windows devices, unique and beautiful travel destinations around the world, health and medical tips, and entertainment interviews on the show. NewsWatch airs on the History Channel at 6:00 – 6:30 AM ET/PT and on the FYI Network from 7:00 – 7:30 AM ET.
NewsWatch is located in the greater Washington, DC area and has been on air for over 25 years. For more information or to watch the most recent episode, visit http://newswatchtv.com/tech-report.html.