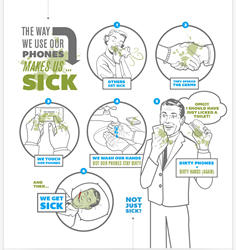 Washington, DC (PRWEB) December 07, 2014
"PhoneSoap" was featured on NewsWatch as part of its monthly Tech Report, which features the latest and coolest technology products available to consumers. Mallory Sofastaii, a technology expert and reporter for NewsWatch, conducted the product review and shared with viewers how it is a powerful device to kill bacteria off phones.
Which is dirtier, a cell phone or toilet seat? Studies by the PhoneSoap have shown that the average phone is 18 times dirtier than a toilet. Since cellphones go everywhere that people do, and they often are stored in dark, warm places like pockets, bacteria thrives on the surface.
PhoneSoap, which is available for only $59.95, is a convenient tool for cleaning a phone and killing the bacteria. Phones are plugged into the PhoneSoap charger, which is inside the device, and then the top is closed to charge and clean the phone. UV lights turn on when the top is closed and then they turn off after 5 minutes once the phone is cleaned.
It is the safest way to clean a phone and have it completely free of bacteria. This same technology is even used in hospitals across the US.
To learn more, visit http://www.phonesoap.com.
About NewsWatch
NewsWatch is a weekly 30-minute consumer oriented television show that airs on the History Channel, FYI Network, and ION Network. NewsWatch regularly features top technology products and services, mobile applications for iOS, Android, and Windows devices, unique and beautiful travel destinations around the world, health and medical tips, and entertainment interviews on the show. NewsWatch airs on the History Channel at 6:00 – 6:30 AM ET/PT and on the FYI Network from 7:00 – 7:30 AM ET.
NewsWatch is located in the greater Washington, DC area and has been on air for over 25 years. For more information or to watch the most recent episode, visit http://newswatchtv.com/tech-report.html.