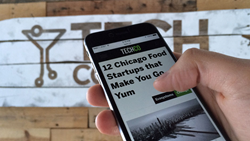 Our audience growth continues to accelerate as demand for timely, relevant content increases.
Las Vegas, NV (PRWEB) June 01, 2015
Tech Cocktail, LLC today announced the launch of its new media brand Tech.Co. The rebranded media site offers tech startup news, events, trends, resources and a hyper-local view of tech scenes across the U.S. and beyond.
Founded in 2006 from a simple community-building event, Tech Cocktail has transformed into a dominant media company with a growing readership in the millions. Its flagship Tech Cocktail brand will continue to host and promote local mixers, conferences, launch events, startup showcases, meet-ups and speaker sessions. Tech Cocktail events attract tens of thousands of attendees annually, and serve to educate, connect and celebrate entrepreneurs from around the world.
With the introduction of Tech.Co, the company further establishes its position as the leading resource for startup founders, entrepreneurs, large tech and consumer brands and the investment community eager to support the growth of the startup market across industries.
"As part of our efforts to continue to evolve our brand to meet our partners and startup needs, we created a more well-rounded resource and access to the tools and information our readers demand", said Frank Gruber, Tech Cocktail CEO. "We're tapped in to local startup ecosystems and are telling their stories."
The company has also introduced native ad placements, City Guides and more branded content opportunities across the Tech.Co network. "For our marketing partners looking to reach startups and early stage entrepreneurs, these premium offerings create a bridge into this highly sought-out market.
"Startup success relies on resilience, opportunity and a healthy dose of aspiration. Tech.Co continues to deliver the resources and tools startups need to be successful. Frank and Jen's commitment to celebrating the startup journey is inspirational. They will give your startup a real shot through their active (and connected) network in addition to the priceless resources delivered through the Tech.Co platform," said author and furturist Brian Solis.
The new brand will continue to deliver coverage in targeted markets, and provide greater depth, context and community for each topic area and geography. Tech.Co will be lead by managing editor Ann Diab with Frank Gruber remaining as the editor-in-chief.
"Ann and our expert team of writers have a deep understanding of the tech startup scene and will continue to lead an important, and ever-evolving, conversation around the global startup revolution. They bring an unrivaled knack for storytelling, analysis and capturing the energy and passion around innovation, disruption and technology," added Gruber.
"We have an exciting, aggressive vision for what our media product can be moving forward. Our audience growth continues to accelerate as demand for timely, relevant content increases," said Jen Consalvo, COO at Tech Cocktail.
Gruber is the author of 'Startup Mixology: Tech Cocktail's Guide to Building, Growing & Celebrating Startup Success', published in June 2014 by Wiley. He has been named by Forbes as one of the most connected people in tech. As a journalist his works have been featured in a number of top media publications like TechCrunch, Fortune, HuffPo, etc. Consalvo is a leader in the tech space, having started her career building communities and digital products for millions of users for over twelve years at AOL.
Tech.Co produces the annual Celebrate startup event in Las Vegas, NV. Celebrate 2015 is a 3-day startup journey and conference being held October 4-6, 2015 in Tony Hsieh's downtown Las Vegas.
ABOUT TECH COCKTAIL
Founded in 2006 by former Tribune and AOL product strategist, long-time tech blogger and new media pioneer Frank Gruber, Tech Cocktail's original vision was to amplify the local Chicago tech scene through events and meet-ups. In 2010, in the midst of growing demand for tech startup news and resources, Gruber teamed with former AOL producer Jen Consalvo to re-launch the business as a full-time events and media company. Today, Tech Cocktail and its new media brand Tech.Co deliver up-to-the-minute news, stories, how-to advice, startup competitions, events, education and a good many reminders to celebrate the startup journey. Tech Cocktail has been named by Forbes as one of the best organizations for entrepreneurs.