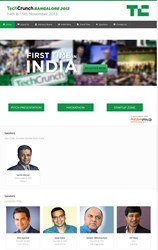 The event kickstarts with the incredibly popular Techcrunch Hackathon on 14th, with 500 hackers from across the country, crème de le crème carefully picked to create the most fantastic products in 24 hours! With unlimited beer and pizzas…
Bangalore, India (PRWEB) October 04, 2013
TechCrunch Bangalore will be a two-day long celebration of technological innovation in the country with some of the most successful entrepreneurs from India, Europe and US, sharing unique insights into the big changes and trends happening in the world right now.
This platform has been built to help propel India's tech start-ups into the centre of the debate about what's changing in technology right now, what's causing it and how we can harness the current economic climate to innovate and grow. The focus will largely be on building exciting global companies from India.
The event kickstarts with the incredibly popular Techcrunch Hackathon on 14th, with 500 hackers from across the country, crème de le crème carefully picked to create the most fantastic products in 24 hours. With unlimited beer and pizzas, hackers could make anything from useful-to-hilarious products. Every team gets 60 seconds to pitch their speed creation in a battle to a panel of expert judges and audience members on Nov 15th, where the top 3 teams will go on to present their product on the stage in front of the main conference's massive (and massively influential) audience. The best team wins tickets to the TechCrunch Mega Event in Delhi planned for August 2014, and a chance to be at TechCrunch Disrupt San Francisco 2014.
The other insanely exciting part of the day is the Pitch Presentations. Some 30 companies, chosen from hundreds of applicants, present their products on the stage before a live and online audience, including a panel of 50 VCs and expert judges. After demos, pitches and tough rounds of questions, our expert panel including 50+ VCs, seasoned entrepreneurs and product experts, select companies for a final round.
The main conference on Nov 15th will feature success stories from around the world, speakers to be announced closer to the event.
The excitement is building up. Do visit TechCrunch-India website to stay tuned.