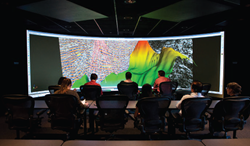 It is crucial for companies in the Oil and Gas sector to utilize advanced visualization and collaboration technologies to increase efficiency and lower overall cost.
Atlanta, GA (PRWEB) October 17, 2015
Technical Innovation's Critical Space Solutions will once again be participating in the Society of Exploration Geophysicists (SEG) International Expo and 85th Annual Meeting, held October 18-23 at the Ernest N. Morial Convention Center in New Orleans, LA. As one of the most anticipated events of the year for the OGP market, the SEG Expo brings together more than 8,500 attendees from 70 countries.
Having served the mission critical marketplace for more than a decade, Technical Innovation's Critical Space Solutions understands that OGP demands real-time monitoring and management solutions that maximize performance and efficiency while minimizing energy consumption and risk mitigation. Maz Zaeefjou, Sr. Project Development Manager specializing in OGP solutions for more than 16 years, will be on-site at booth #1746 alongside Jon Litt, Sr. Manager for Christie Digital specializing in Control Room and Visualization Solutions, to demonstrate today's newest collaboration technology. "In our partnership with Christie Digital, we are excited to showcase some of the latest collaboration and visualization technologies," says Maz.
The booth will feature Christie's very best in visual display solutions for both the visualization and control room aspects of the oil and gas industry. Visitors will see three large format displays, including Christie's FHQ841-T 84-inch interactive QuadHD display, the newly released Christie FHQ981-L 98-inch QuadHD display, and a 2x2 video wall array using the Christie FHD552-X ultra-narrow bezel flat panel, which provides a viewing area diagonal of 110-inches.
The displays will be connected to two different video wall processor solutions offered by Christie. The high performance, low latency Christie Spyder X20 1608 processor can display both 2D and 3D content and multiple windows simultaneously. Similarly, the Christie Phoenix® System which is an IP distributed video wall management system, allows the displaying of multiple sources across a video wall from both within the local working space and across the network. These solutions allow an operator to display what they want, where they want it and when they want it.
The booth will demonstrate the entire solution, focusing on how these technologies work together to create the optimal operator experience. "In addition to utilizing innovative drilling and exploration techniques," says Maz, "it is crucial for companies in the Oil and Gas sector to utilize advanced visualization and collaboration technologies to increase efficiency and lower overall cost. By creating a true multi-disciplinary collaboration capability, we can help our customer further offset the impact of low oil prices."
About Technical Innovation Critical Space Solutions
Technical Innovation's Critical Space Solutions (CSS) team specializes in the design and integration of mission-critical environments including Visualization/Collaboration Centers, Real Time Operation Centers (RTOC), and Highly Immersive Visualization Environments (HIVES) to help with the exploration and production of oil, gas and mineral resources. With a veteran team of experts serving the OGP market, CSS designs and integrates multi-purpose and large visualization rooms that support collaboration and allow operators to disseminate critical data among the organization or service providers. With a global portfolio, unparalleled expertise and the security and wherewithal of Technical Innovation, a technology leader for over 75 years, CSS also offers a full suite of client support and maintenance services including TI- OnSite Managed Services.
For more information about Critical Space Solutions, visit http://www.ticss.net
About Christie
Christie Digital Systems USA, Inc. is a global visual and audio technologies company and is a wholly-owned subsidiary of Ushio, Inc., Japan, (JP:6925). Consistently setting the standards by being the first to market some of the world's most advanced projectors and complete system displays, Christie is recognized as one of the most innovative visual technology companies in the world. From retail displays to Hollywood, mission critical command centers to classrooms and training simulators, Christie display solutions and projectors capture the attention of audiences around the world with dynamic and stunning images. Visit http://www.christiedigital.com.
Follow us:
Twitter.com/christiedigital
Facebook.com/christiedigital
#christiedigital
"Christie" is a trademark of Christie Digital Systems USA, Inc., registered in the United States of America and certain other countries.