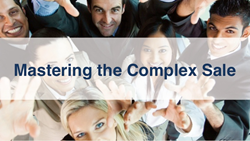 We have learned from the very best salespeople what it takes to win business and have translated those skills and insights into Mastering the Complex Sale.
Scottsdale, AZ (PRWEB) August 05, 2014
Sales Horizons, a leader in sales training, today announces the launch of its online sales training course – Mastering the Complex Sale – to help companies develop their technical, engineering, and IT staff to build sales skills.
Increasingly, companies have highly skilled technical people are on the client sites that can be an extension of the companies' sales effort – building relationships and identifying opportunities. They participate in pre-sales meetings as part of the sales team, as well as, attending client meetings throughout the crucial stages of the project.
This online sales training course is designed for companies seeking to give technical, engineering, and IT staff that extra edge when interacting with clients. According to Janet Spirer, co-founder of Sales Horizons, "Technical people are in a prime spot to identify grow existing business and to identify new opportunities. However, many of technical staff are reticent to take these steps because they lack the knowledge, skills and confidence to do so.
Created from proven sales training programs used by thousands of salespeople and technical staff over 25 years in market-leading Fortune 500 companies, Sales Horizons' online sales training program is an ideal way to meet this challenge.
With the ability to be implemented anytime, anyplace, Mastering the Complex Sale is divided into 18 lectures covering these sales skills:

Networking
Establishing Credibility
Handling Objections
Call Planning
Opening Calls
Closing Calls
Selling Value
Active Listening
Asking Questions
Positioning Solutions
Post-Call Planning
Team Selling
Using Social Media
Storytelling
Richard Ruff, co-founder of Sales Horizons said, "By placing Sales Horizons' proven sales training programs with the Fortune 500 on Udemy's online training system, every company now will be able to offer to their technical teams effective, efficient, and affordable sales training to develop their sales awareness."
Sales Horizons offers discounts to companies who purchase multiple licenses for their sales teams Open enrollment allows salespeople to register and take Mastering the Complex Sale immediately.
To learn more and develop the sales skills to master complex sales, click here.
About Sales Horizons. Sales Horizons offers a new generation of online sales training built for today's disruptive business environment. The purpose of starting Sales Horizons was to transfer the experiences learned from managing sales training projects for Fortune 500 companies like Xerox, Apple, GE, Smith & Nephew, UPS, Canon, and Microsoft into a set of bet practices that could be delivered to anyone, anyplace, anytime.
Contact Janet Spirer, Ph.D. 
Principal, Sales Horizons 
9280 E. Thompson Peak Parkway - Suite 36 
Scottsdale, AZ 85255 
Tel: 480-513-0900 
janet(at)saleshorizons(dot)com 
Web: http://www.saleshorizons.com 
Blog: http://www.salestrainingconnection.com