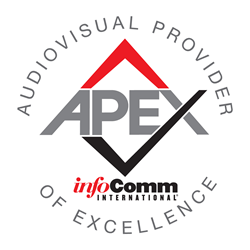 We strive to set the standard in providing creative AV solutions that provide tremendous value to our clients.
Norcross, GA (PRWEB) June 13, 2015
Technical Innovation announces the firm has achieved the designation of APEx, InfoComm International's recently introduced program recognizing exceptional levels of quality in systems design and integration as well as customer satisfaction.
Having maintained InfoComm's highest designation for excellence through their previous program, Diamond Certified Audiovisual Solutions Provider (CAVSP), TI sought to achieve the more robust criteria outlined in APEx and is now among a select group of integration and consulting firms world-wide to achieve this distinction.
Continually striving to bring added value to their clients, the APEx program validates not only the integrity of their products and services, but efficiencies in processes and a commitment to ongoing industry education that translate to client savings and increased overall satisfaction. The criteria is based on standards conformance, percentage of CTS-certified staff (InfoComm Certified Technology Specialist), adherence to Core Values, continuing industry education and, of the utmost importance to TI, positive customer response surveys.
Bob Tunis, VP of Technical Operations, led the certification process and states, "We are very proud to have met the APEx certification standard set by InfoComm. The attainment of this certification demonstrates Technical Innovation's continuing dedication to excellence in customer satisfaction and quality of work. We strive to set the standard in providing creative AV solutions that provide tremendous value to our clients."
###
Technical Innovation is a design/build systems integrator specializing in unified communication technologies, mission critical facilities, presentation and visualization environments and broadcast solutions. Serving corporations, state and federal government agencies, universities, professional organizations, and Houses of Worship, TI focuses on designing solutions specific to their client's needs and providing an exceptional customer experience. This includes best-of-class, video-centric collaboration solutions, design-build system integration, managed services and ongoing customer support. TI has earned the trust of their clients for delivering exceptional customer service, and their clients also rely on them for expert guidance, unique vision, and highly disciplined approach. Companies such as MetLife, United Airlines, Turner, and The Home Depot have counted on them for their system integration needs. Established in 1937, Technical Innovation has grown to over 440 employees and is ranked 5th on the SCN Top 50 list. TI has won numerous awards for their work, but it's the reward of exceeding their customers' expectations that continually inspires the company.