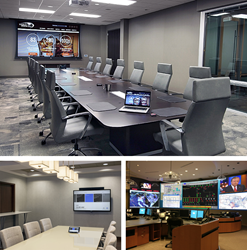 We will continue to invest in the resources required to provide exceptional customer service to the Houston community.
NORCROSS, GA (PRWEB) July 30, 2015
While Technical Innovation is no newcomer to Houston's changing technological demands across its various market sectors, the new Houston office will provide additional resources and client support. The three-day, open house-style Grand Opening event will be held Tuesday, Aug. 4, through Thursday, Aug. 6, and showcase several leading manufacturers and new, innovative technologies.
The TI Comprehensive Collaborative Solutions Showcase promises an exciting overview of technologies to enhance productivity in today's digital workplace. From board rooms and huddle spaces, to mission critical control rooms and network operation centers—manufacturers will be in attendance to demonstrate their new collaborative technologies.
Several of the products featured in the Showcase were just announced as rAVe Publication's Best of InfoComm Award Winners. Epson is set to show their BrightLink Pro, an all-in-one collaborative whiteboarding system for "simply better meetings." Prysm's Cascade video walls and displays promise to deliver an unrivaled collaboration experience, with a digital canvas to take productivity and engagement to new levels. Cambridge Sound Management, Inc. will showcase their QtPro sound masking system, and Visix demonstrates how to create, manage, and deliver messages, media and alerts using their digital signage software. The Showcase, which also includes AMX, Barco, Christie, ClearOne, Crestron, Matrox, Middle Atlantic, NEC, Newline, Polycom, ProVideo Solutions, RGB Spectrum, Thinklogical, Vaddio, Winsted and Wolfvision, focuses on the unique demands of Houston's corporate, legal, manufacturing and Oil, Gas & Petroleum (OGP) environments.
"We are excited about the opening of our Houston facility. It represents a milestone in TI's progress in establishing a presence in the Houston market, and the oil and gas industry," says Technical Innovation President, Kevin Powers. "We have reached a point where we cannot serve our customers in that area effectively without a locally staffed facility. We will continue to invest in the resources required to provide exceptional customer service to the Houston community."
For more information about the TI Comprehensive Collaborative Solutions Showcase, or to RSVP, visit https://2b5724.campgn3.com/Technical-Innovation-Houston-Comprehensive-Collaborative-Event, or call 713-325-7672. For more information about Technical Innovation Houston, visit http://www.technical-innovation.com/houston.
About Technical Innovation
Technical Innovation is a design/build systems integrator specializing in unified communication technologies, presentation and visualization environments and broadcast solutions. Serving corporations, state and federal government agencies, universities, professional organizations, as well as mission critical facilities, TI focuses on designing solutions specific to their client's needs and providing an exceptional customer experience. This includes best-of-class, video-centric collaboration solutions, design-build system integration, managed services and ongoing customer support. As TI's dedicated team working exclusively within the mission critical community, Critical Space Solutions provides turn-key, design-build advanced visualization spaces within mission critical environments that allow operators to instantaneously disseminate critical data, increasing response times through enhanced situational awareness.
For more information about Technical Innovation or TI's Critical Space Solutions, visit http://www.technical-innovation.com/ and http://www.ticss.net/