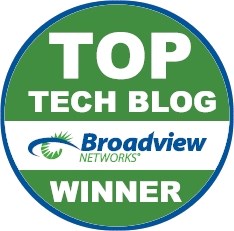 Independent positive review of a blog by a tech industry company is an authors delight!
Bethesda, MD (PRWEB) August 19, 2013
Loebig Ink Consulting is proud to announce that the small business technology blog, TheInkBlog.net, was awarded a Top Tech Blog Winner award by Broadview Networks, a VoIP and communication provider based in Rye Brook, NY. Broadview Networks developed its inaugural award to help promote its own business as well as help its clients and partner organizations glean the best technology advice on the web.
The Broadview Networks tech blog award page states: Broadview Networks is seeking out the most relevant websites in the online technology, business innovation, and entrepreneurship communities. Our goal is to provide a comprehensive list, nominated by readers and staff, which will help our clients and partners glean the best technology and business advice on the web.
TheInkBlog.net provides valuable tips and tools for the varied technology needs of small business and solo-entrepreneurs. A recent "Entrepreneur in Action" article series also features experiences and advice from successful entrepreneurs in their own words.
After receiving notification of the award, Brian Loebig stated, "It was an honor to be approached by Broadview Networks to submit an application for nomination in the Top Tech Blog award. It was an even greater validation to receive word that TheInkBlog.net received the award. Independent positive review of a blog by a tech industry company is an authors delight. It provides validation of the many hours of research and writing that are required to provide quality content to the small business niche market."
Established in 1999 as a web design services business in Philadelphia, PA, Loebig Ink, now located in the Northern Virginia/Maryland/Washington, D.C. area, is a small business consulting firm specializing in internet business solutions, performance improvement consulting, and small to medium-sized business development. Services at Loebig Ink include Small Business Coaching, Web Design, Search Engine Optimization, Social Media Marketing, and Online Advertising. Owner and blogger, Brian Loebig, has over 15 years of experience working in the fields of technology and quality improvement.