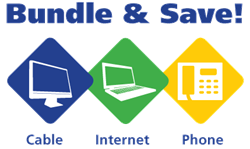 SolveForce Expands Internet & Phone Bundle Marketing Efforts into Manhattan, Denver & San Francisco
(PRWEB) June 30, 2016
SolveForce has been working a large marketing campaign brining Internet & Phone Bundle (http://solveforce.com) services throughout select cities in the US. Their next target market is Manhattan, Denver & San Francisco effective July 1, 2016. These marketing efforts are targeting top cities for professionals and will continue on to the later part of 2016.
Internet service providers will often offer home phone and TV bundles that consumers can add to their Internet plan.
Why bundle services? Here are the top two reasons:
1. Consumers can save money each month: Internet service providers usually offer a special bundle price that is lower than if they purchased each service separately.
2. Consumers will only have one bill to pay: When there is a different provider for Internet, home phone and TV, everyone will have to deal with the hassle of paying three different bills each month. When they bundle, they can not only cut how much money owed, they cut bills from three to just one.
Internet, phone, TV bundles
Many service providers offer "double play" and "triple play" deals, which let customesr bundle two or three services together.
DOUBLE PLAY
When customers bundle two services together, they get a double play. The most popular combinations are Internet & Phone Bundles (http://solveforce.com/services/). However, some companies allow for other bundles, such as Internet and home phone.
A double play is the first step to saving money. When customers bundle two services together, they'll typically get a discount on each of the services. Saving a little money on the bill each month can add up to a lot of savings by the end of the year.
TRIPLE PLAY
A triple play is usually the best way to go if customers are looking to save the most money. With a triple play, they'll get TV, Internet and home phone service. In most cases, the more services bundled together, the more saved on each individual service.
If someone has a cell phone, they may be torn between choosing a double or a triple play. A lot of people opt to always use their cell phones instead of subscribing to a home phone service.
However, having a home phone can still be useful. Home phone service is usually pretty inexpensive and may help save mobile minutes for talking on-the-go. Internet providers often let customers add home phone to their plan for just a little extra – so it's definitely worth looking into a triple play.
Besides saving mobile minutes, what are the benefits of a home phone? For one, there is always reliable service. Overall, it's a safe and reliable addition to consumer's Internet packages.
To learn more about SolveForce Telecom Consulting (http://solveforce.com/services/) services, visit SolveForce.com.
About SolveForce
We are committed to a customers company in every aspect of the customer relationship. If a customers company needs to contact us for any reason, please don't hesitate to call or email us at the earliest convenience.
By Phone: (888) 765-8301
By Email: ron(at)SolveForce(dot)com
By Website: http://www.SolveForce.com