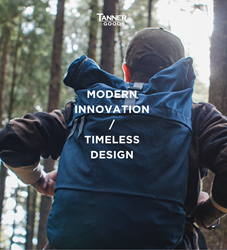 The starting point for any new design is inspired by the customer.
PORTLAND, Ore. (PRWEB) October 24, 2019
The Koru Rucksack is an all new design that offers the modern features of a technical bag with the timeless craftsmanship expected from Tanner Goods. It offers a lighter construction, more comfortable strap system and better organization.
Much of the design for the bag came from the insights of how customers were using the Wilderness Rucksack, Tanner Goods' first roll top backpack design. By gaining a solid understanding of where the original bag excelled and where it needed improvement, Tanner Goods set out to design a bag that would fit a diverse spectrum of needs. Seeking out new materials, the team landed on the fabric, Konbu-N.
Konbu-N is a Cordura® 500D fabric made from 100% nylon yarns. It has a rich and natural finish thanks to a proprietary technique developed by a special mill in Osaka, Japan. Konbu-N is lighter than waxed canvas but is very durable, boasting military grade abrasion resistance.
Tanner Goods is among the first brands to bring the Konbu-N fabric to North America. The result is the new Koru Rucksack: a lightweight, versatile bag fit for the adventures of life.