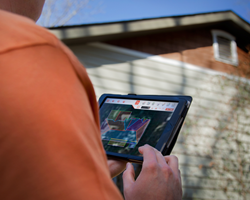 Contractors have their hands full learning new materials and methods, they don't need to spend a lot of time learning new software.
Suwanee, GA (PRWEB) March 14, 2014
RoofSketchPro, one of TechToolBelt's mobile apps, allows contractors to draw roof diagrams while automatically pulling measurements from aerial map images then calculates pricing and proposals.
Atlanta based TechToolBelt is providing mobile software for the roofing industry. These innovative apps provide roofing contractors with an easy to use interface which is backed by comprehensive programming that handles all the complex geometry, calculations, and pricing within minutes of arriving at a job site. All this at a fraction of the cost of other software and measurement service providers. These apps include:

Roofing Pitchbook
Roof PitchFactor
TechToolBelt's flagship app RoofSketchPro is a subscription based service (starting at $50.00 a month, http://techtoolbelt.com/roofsketchpro), which allows roofing contractors to add their own company profile, including their logo and individual pricing, that integrates into the projects and proposals. Once on-site the contractor can use the device's GPS to automatically add the customer's address and aerial map image. He traces over the map image with one of the selected tools. The app generates several reports including a detailed measurement report, materials order, and proposal that allows customers to sign on the spot. RoofSketchPro eliminates hours of measurements, geometry, and pricing calculations, delivering a detailed and professional proposal into the customers hand before ever leaving the job site.
The Roofing PitchBook is a sales aid that gives the roofing contractor a simple, visual, step-by-step guide to present to a homeowner the material choices they will need to make. It is available for download now, on the Apple App Store for $9.99.
TechToolBelt's free app, Roof PitchFactor, is a digital pitch gauge tool that allows the roofing contractor to use their iPhone to identify the roof pitch without having to get on a roof. Available for download now on the Apple App Store for free.
"Our goal is to provide more than just measurements to roofing contractors." states Jeremy Brimer, founder of TechToolBelt. "Contractors have their hands full learning new materials and methods, they don't need to spend a lot of time learning new software. Our apps work for everyone, from the small family roofing company to the large roofing business with a fleet of roofers."
About TechToolBelt:
TechToolBelt is an innovative mobile app and cloud based software company dedicated to reducing the paperwork and time a contractor needs to manage their business. All of TechToolBelt's apps and services can be found at http://techtoolbelt.com along with more information on the company.