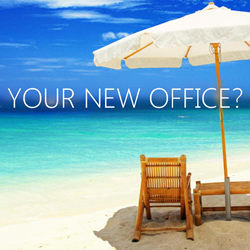 Stop working in a cramped cubicle. Live and work in paradise with adventure at your doorstep!
Austin, Texas (PRWEB) July 27, 2015
techXscapes launched its Indiegogo campaign for funding its destination bungalow-workspace pilot location in Costa Rica on July 20, 2015. Its funding goal is $75,000.
Focused on technology professionals, the Bungalow-workspace concept combines co-working and co-living space ideas into a unified experience, simplifying the logistics of living and working abroad.
Residents will have the opportunity to create their ideal work environment, where they can be comfortable as well as productive. Additionally, the pilot location will be outfitted with all of the accoutrements for remote working professionals and include large monitors in rooms, fast Internet, dry/erase boards and more.
Located in picturesque destinations, residents will have convenient and safe access to all that the host country has to offer. techXscapers will also have access to its Growth Tracks program, enabling them to grow professionally as well as personally. Available in free and for fee options, these tracks include: Health & Fitness, Adventurer, Cultural, Software Development, Leadership, and Entrepreneurship. Residents can customize their participation based on their interests and professional goals.
To improve campaign user engagement, techXscapes developed a patent pending method to integrate Gamification into campaign pitch video content. Believed to be the first of its kind, the gamified video content includes visual puzzles for funders to solve. Games are later launched during the campaign and prizes awarded to winning participants. In addition to improved user engagement, campaigners can maximize message exposure to users through repeat views of video content.
The Indiegogo campaign will run until August 24th. There are several stretch goals to be unlocked - including pilot site upgrades like 27" Apple monitors, bicycles, four wheelers, and more.
Currently, the most basic perk level includes stickers + rent discount at $15; Limited Funder's Nerds in Paradise T-Shirt + rent discount at $35; and 1 month discounted rent + Stickers, Limited Funder T-shirt, and Hula Girl Bobblehead at $1,200 (Normally $1,950 per month).