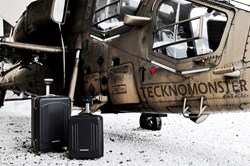 London, UK (PRWEB UK) 17 November 2013
Innovative engineering technology and precise attention to detail join forces on the Kasor range to create a truly revolutionary new product. Inspired by the aviation industry and made entirely in Italy, maximum endurance is achieved with minimum thickness on the hi-tech laminated carbon fibre shells that form the framework of each of the 4 wheeled suitcases in the range.
Each cutting-edge Kasor case boasts a host of innovative details unique to the renowned TecknoMonster brand, including hand-stitched leather handles on the aluminium rod pull bar, four highly stress-resistant, low noise castor wheels, an exclusive high sealing rubber to protect the zip and a SnapFit kit for superior internal organisation.
In addition, all TecknoMonster trolley cases can be customised on request by installing a special security system incorporating tested ballistic bullet-proof panels, designed to ensure that they are totally indestructible in any situation.
Available from December 1st exclusively from the newly remodelled luggage department at Harrods in Knightsbridge, the new Kasor range is comprised of 3 pieces of luggage: 1 small cabin size and 2 hold sizes (Maxi & Executive). All three are finished in grey carbon fibre and offered in a choice of trims: beige leather (as shown) or black leather with red stitching. Bespoke colour leathers and genuine crocodile leather models are also available to order. These 3 unique new TecknoMonster cases make the perfect Christmas gift for the man (or woman) who has everything and are especially ideal for all James Bond fans!
Note to Editors: Case Luggage is the leading retailer of premium travel goods in the UK. Established in 1923, the company celebrates 90 years in business this year. http://www.caseluggage.com.