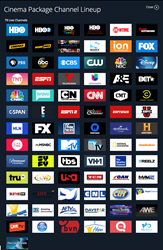 NEW YORK (PRWEB) December 12, 2018
Ted Joseph Music business executive and the CEO of Vuuzle Media Corp. announced today, "That the company had slated several major motion pictures to be made in 2019, which would be exclusively distributed on Vuuzle TV.
After 26 years in entertainment with powerful studios, including Warner Bros. Records and Warner Distribution Sony Music, EMI/Capitol, BMG Distribution, Sony Distribution, Universal Distribution, and Warner Music Group, Ted said "Vuuzle Media will provide its users exclusive content via the Internet including live streaming, gaming, augmented reality, and virtual reality. Vuuzle TV will be offing its users base subscriptions that include premium channels and special services."
The channel line-up will include:
ABC (WABC) – NY, BRAVO,TLC, 4 CBS (WCBS) - NY, CNBC, TNT, NBC (WNBC) – NY, CNN, TOON, FOX (WNYW) – NY, COMEDY, USA, PBS (WNET) – NY, DISNEY, Food Network, CW (WPIX) – NY, DSC, AMC, ION (WPXN) – NY, ESPN, CMT, My (WWOR) – NY, ESPN2 , CSPAN, Telemundo – NY, FNC, MTV, TBS, FX, NIK, APL, HGTV, VH1, AETV, HISTORY, OWN, Freeform, HLN, The Weather Channel, Hallmark, LIFE, BET, Paramount Network, MSNBC, E Entertainment, SYFY, NGC, Univision, ESPN Classic, TruTV, Travel Channel, ESPN, ESPN News, HBO, HBO2, HBO Signature, HBO Family, Showtime, Showtime Extreme, Cinemax, More Max, SONY CHANNEL, ION TELEVISION, FOX, PBS, ABC, CBS, THE CW, NBC, DISNEY, TNT, ESPN, UNIVISION, ARTS AND ENTERTAINMENT, BET, CNBC, BRAVO, CARTOON NETWORK, CNN, CMT, COMEDY CHANNEL, ESPN CLASSIC, HLN, FX, FOX NEWS, HALLMARK CHANNEL, HISTORY CHANNEL, LIFE TIME, MY TV, NATIONAL GEOGRAPHIC, NICKELODEON, SY FY, TBS, THE WEATHER CHANNEL, TRU TV, NOW CHANNEL, USA, TCM, OAN, MAV TV, RIDE TV, LIFE, CNL, CTN, HOPE CHANNEL, AMAZING DISCOVERIES, DAY STAR, AMAZING DISCOVERIES, AFTV, HIS LIGHT, AWE, GET TV, HSN, BVN, HOPE, QVC, THE BEACH CHANNEL, THE LAST BREATH, FEHERANZA TV, STINGRAY KARAOKE, MAGNOLIA SELECTS, WARRIORS&GANGSTERS, STINGRAY CLASSICA, STINGRAY JAZZ, VUUZLE FIGHT NETWORK.
The new Vuuzle TV service will be very simple to use. You just plug-in your device, download an app from Google Play store or Apple iOS, and away you go. The new platform will be a 24-hour entertainment service using a customized 2-way OTT streaming platform that users can connect Vuuzle to Roku Plus, Android, Google Chromecast, Amazon prime, Apple 4K TV, Nvidia Shield, Now TV, PlayStation Hisense SHARP TVs, Roku Box/Stick, Xiaomi, Mi Box, Apple TV, Amazon Fire, LG TV, Android TV.
Joshua Flynn, the marketing manager at Vuuzle Media said, "OTT, which stands for over-the-top media services referring to content providers that distribute streaming media as a standalone product directly to viewers over the Internet, might be the most important abbreviation you've never heard of. Right now it's in 51% of American homes and growing and it's being used at least 100 minutes per day. Vuuzle TV will focus on all aspects of entertainment to give its Vuuzle audience the best choices using high definition in the 1st Quarter of 2019."
John Lamb, the president for Vuuzle TV, said, "TV is not the same today as it used to be. Twenty years ago TV was locked in to one location at one specific time. Today Vuuzle TV has evolved into a personalized interactive viewing experience with offers globally available anytime, anywhere."
The CTO Prophecy Onasis, a Rock-star in the tech world, will be working with the creative and marketing team lining up new ways to use Vuuzle Media Corp.'s integrated technology, letting users share their files and build linear channels from user-based content, in addition to organizing the visual web through Vuuzle's Clout 9 social media software application.
As 2019 approaches look out for Vuuzle Media Corp. Vuuzle will be auditioning talent from all over the world to be cast into new films and exclusive content only to be seen on Vuuzle TV.
Vuuzle Tv is a triple play company with offices in New York, Las Vegas, Philippines, Indonesia, and Ukraine.