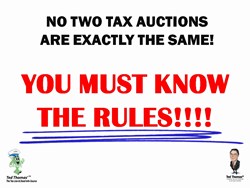 A great potential with a low risk and small investment.
(PRWEB) August 08, 2013
"What Is A Tax Lien Certificate – Explained," a five minute educational video from Ted Thomas, is helping investors around the world understand the complex subject of how to buy tax lien certificates online. Tax lien properties are homes that have a lien placed on them by the municipality or county government due to unpaid taxes. In order to generate the revenue needed to keep services running for residents, the local government offers lien certificates to investors. Average men and women can purchase tax liens all over the country. It offers a chance to invest in real estate without the hassle of home ownership.
"The state, county or municipal government sets the rate of return for the investor on these tax lien certificates," Ted Thomas said at a recent training event on how to buy tax lien certificates online. "I've seen as low as 8 percent, all the way up to 30 percent or even more. One state pays up to 50 percent in subsequent years. "The key to realizing these outstanding returns is to do the proper preparation. My training walks first-time investors through the whole process. That's why I produced the video explaining what a tax lien certificate is--I want every investor to have the opportunity to take advantage of this safe and appealing investment vehicle."
"There is a great potential to create a nice investment portfolio with low risk and small investments," Mr. Thomas continued. "For example, in the state of Illinois, tax lien certificates pay 3 percent for every month the certificate is outstanding and unpaid. That translates to 36 percent annualized. Think about this: In Illinois, if you purchased a $1000 tax lien certificate at an interest rate of 3 percent per month or 36 percent annually, and the taxpayer paid the taxes in the 10th month, you would get paid your original investment of $1000 plus 30 percent interest, or an additional $300. That's a pretty good return compared to the banks or the stock market--and it's all secured by the property."
Perhaps the best part of investing in tax lien certificates is the money goes to the local government. Many counties and towns are in desperate need of revenue for police, fire and other critical services. The unique characteristics of learning how to buy tax lien certificates online is what keeps Ted Thomas excited about training potential investors. It's a unique opportunity to gain a significant return and help local communities.
About Ted Thomas
For over 20 years, Ted Thomas has invested in tax lien certificates and purchased property through tax deed auctions. Investors continually asked him for his expertise on these investment opportunities. Eventually, he created the most extensive library of tax lien educational material available. Ever since, he has been recognized as "America's Tax Lien Expert." For more information on how to buy tax lien certificates online, investors can view the five minute training video, "What Is A Tax Lien Certificate – Explained," at TedThomas.com.