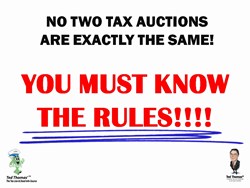 I went to a high level of confidence on the second sale.
(PRWEB) August 14, 2013
Bill Williams is a stock market investor who lost 50% of his money when the market crashed. Ted Thomas showed Mr. Williams how to buy a house with a tax lien. Using the Ted Thomas Home Study Course, Mr. Williams was able to purchase properties and protect his money.
He details his experience in the educational video, "Painful Stock Market Losses." The video is part of the free investment education library exclusively available at TedThomas.com. In the video, Mr. Williams explains how he changed from an exclusively stock market investor to diversifying with tax lien investing.
"About a year and a half ago I was sitting pretty, I thought oh boy, I'm doing well. As of right now, my stock market investments are doing half of what they were doing a year and half ago. I can't emphasize this enough. Ted Thomas recommends repeatedly that you should do this with your IRA: Take your IRA money and put it in a safe, secure investment that doesn't go down. I didn't do that. I kept it in my stocks and bonds and lost half of what I had.
"Had I put it in tax liens, even at the modest rate paid in Oklahoma of eight percent, I could've had all my principal--my entire amount plus eight percent! Instead, I have half what I had. If anybody wants a message out of this: Put your IRA money in a safe place. The first thing I did was I went online and got what was available—in this county, the Clerk of Courts sells the property at a deed sale. The research is done at the property appraiser site and the County Clerk site.
"Was I scared? I was not scared, and the reason I was not scared was because the first action I went to, the tax lien auction in this state, had kind of gotten the butterflies out of me. I went with a high level of confidence on the second sale, the tax deed sale, and I bid on several properties. Most of them got bid up above my threshold. There was one that came up, and it was a lot in a built-up area. I looked at all the properties I was bidding on. I wouldn't even considering buying something at a tax deed property sale without looking at it. Because I'm going to own it, and if I am going to own it, I want to make sure I can do something with it."
This particular property was a building lot. Right next to it, in a development, there were other houses already built. The bidding started at the back taxes which were about $1300, and it bid up to $2400. That was my bid, and I got it for $2400. I got a call from somebody and they offered to buy it for $3500. Well, no, I just paid $2400 and I said it is worth $9000. We agreed on a $6000 purchase price. In a very short period time, I doubled my money. He got a deal, I got a deal, everybody was happy. This is probably the best I've time I've ever seen in this county."
Investors interested in learning more about how to buy a house with a tax lien can view the entire video at TedThomas.com. The extensive investment education library is specifically designed to help beginning investors learn about the safety and security of tax lien investing and tax deed auctions. Most average investors cannot risk their life savings on investments that may lose half their value.
About Ted Thomas
Ted Thomas is recognized around the world as the leading educator in how to buy a house with a tax lien. His sold-out seminars are presented across the country so that average investors can learn more about the significant returns available in tax lien certificates and tax deed auctions. Read more about Mr. Thomas and his lifelong mission to help everyday investors at TedThomas.com.