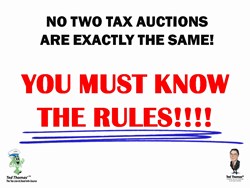 We purchased a deed for $6,000.
(PRWEB) August 12, 2013
As part of his mission to educate America on the opportunities available in tax lien certificates and tax deeds, Ted Thomas has amassed an invaluable collection of investment education videos at TedThomas.com. One of the more popular videos is "Started As A Teenager," the story of how a teenager named Darren Olstad attended a Ted Thomas Workshop Experience, and learned how to buy a tax lien property. He ended up purchasing a house in Texas for $6,000, and it was later appraised at more than $120,000.
"I first heard about Ted's system from a good friend of mine," Darren said. "He called me at work to tell me about it. I was skeptical, but I was ready to find something to do to make some money. I was a high school drop-out. I was 19 years old and didn't have any particular plans for my life. So I said, what the heck, let's check it out. I was amazed by it.
"Three days later we went to Washington State and purchased a 40-acre parcel of land for $4,200 on the Okanagan Valley overlooking the lakes. Later we sold that for over $120,000, which to me was amazing to make that much money with such little effort. And from there we purchased properties in 11 states."
Once Darren and his partners learned how to buy a tax lien property, they expanded their horizons. "For example," Darren said. "I went to Texas with my partners, and we purchased a deed for $6,000. We knew going in that it was worth more than $100,000, and it turned out to be $123,000. So right there we had built-in equity, and was something we could rent out immediately because it was a beautiful single family brick home. Heck, the alarm was on when we went over there--it was ready to move in. To me it was the proof-in-the pudding that the system works, and helps you buy properties for pennies on the dollar."
"Started As A Teenager" is just one of many videos available in the Ted Thomas Free Video Library. It demonstrates any investor can learn how to buy a tax lien property. All of the video titles can be viewed by navigating to TedThomas.com.
About Ted Thomas
Ted Thomas has been recognized by radio, television and newspapers around the world as the leading tax lien certificate and tax deed authority. His mission for life was set when he watched his parents work hard all their life, and then lose it all. From that day forward, he has worked to help average investors learn the exciting opportunities available in tax lien investing.