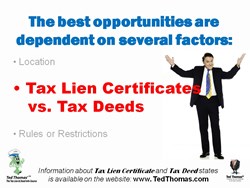 I think people do not know about this stuff.
(PRWEB) August 11, 2013
Ted Thomas is widely regarded as the top authority on tax lien investing in the country. His video, "Truth About Tax Lien Certificates," explains the concept in plain English to everyday investors. It is one of most popular videos in the extensive library of educational videos at TedThomas.com.
"It's amazing when you think about it," Mr. Thomas said recently. "Tax lien certificates are over 100 years old. We have been using them to help governments generate revenue for a very long time, yet few people know of this golden opportunity. I believe that is one reason why 'Truth About Tax Lien Certificates' is so popular. In only five minutes, I am able to lay out the simple steps an everyday investor needs to take to get a substantial return on their money. The best part is that anyone can do this. This investment is not reserved for the elite. It is a great opportunity for normal people that don't want to risk their life savings."
"I think people don't know about this stuff because the big banks and financial groups have kept it to themselves," Mr. Thomas said. "Not any longer. My mission is to get the word out about the safety and high returns of these great investment vehicles. Here's another benefit: There no middlemen, lawyers, outrageous fees or commissions. Your investment money goes straight to the local city or county government. Regular investors don't want to deal with all the malarkey being thrown at them by the big banks and investor groups. Many simply want to find safe investments that will help secure a comfortable, happy retirement."
In addition to the video, TedThomas.com has many resources that can help people find where to buy tax lien certificates. There are additional videos, an extensive blog, and a comprehensive Quick Start guide to help investors start off on the right foot. Each of the educational materials is written in plain English, so every interested investor will be able to get the information they need to get started right away. As a long time teacher and educator, Mr. Thomas has the ability to communicate in a way that makes it easy to understand tax lien investing.
About Ted Thomas
For more than two decades, Ted Thomas has been the leading educator in tax lien certificates and tax deed auctions. Thousands of regular investors have taken his training in order to help secure their financial future. The video, "Truth About Tax Lien Investing," helps them find where to buy tax lien certificates. The complete video education library can be found TedThomas.com.