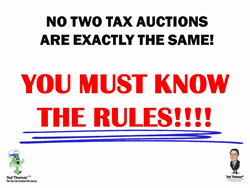 I made $100,000 my first year.
(PRWEB) February 28, 2014
The real estate bust had many victims, including Puff Darlin, a stay-at-home mom with a brain injured son. She lost almost everything when the real estate market went south. After attending a Ted Thomas seminar, she discovered how to buy tax lien properties, and was able to turn her life around. Her story is detailed in the video, "Stay At Home Dollars, Use Your Laptop," which is part of the free investment educational video library at TedThomas.com
"Before I met Ted, I was scared to death," Ms. Darlin explained. "I had lost almost everything in the changes in the real estate market and I did not have a job. I didn't know what I was going to do. I have a brain-injured son who was 33 years old at the time. I have a rather pricey mortgage, and I did not know how I was going to pay my bills. I didn't know how I was going to feed the dog."
"I was very scared, and all I had was a small home equity line of credit on my house. I was trying to find something that I could do. I could not go out and get a job at minimum wage because my mortgage payment was too big. I had to find something. I was at a seminar and I saw Ted for the first time. He was talking about something that was very exciting. It was a very low investment. From what he said in his program, it told you everything step-by-step. It seemed like the safest thing I could do in my situation because I didn't have $50,000 to spend, and I had to have something that was going to work fast.
"When I first saw him, it was the first time I even knew what happened to people who didn't pay their taxes. I had no idea. I bought his program, and did what he said to do. I made $100,000 my first year! I'm not worried about things anymore. I have developed a level of self-confidence I never would have believed. I know I can take care of myself now. I don't need anybody else to take care of my bills or do anything for me. I feed my dog. My son and I have a blast."
Ms. Darlin explained that one of the things she appreciates about the Ted Thomas program is the support offered by the organization. One of the coaches answered several questions she had and was very supportive the entire time. "We have Coach Crystal," Ms. Darlin said. "She is one of the coaches in the program. She does these calls on Wednesday nights where we can listen, and ask questions, and find out what to do. So this has been wonderful for me. It has changed my life. I found a new love, and I'm very appreciative that Ted was at that seminar that I went to, and I got his materials."
The free investment education video library is available at TedThomas.com. Each separate video details a different aspect of how to buy tax lien properties with tax certificates and tax deed auctions. Many of Mr. Thomas's students are regular investors seeking safe, high return investment vehicles that they can count on in their retirement years.
About Ted Thomas
Ted Thomas's organization has the single largest collection of tax lien investing and tax deed auction information in the world. Mr. Thomas has traveled the globe and interviewed hundreds of government, business and investment experts to find the best opportunities for low risk, high yield investments in the country. He has made a personal commitment to share this knowledge with average investors looking to protect their retirement money while enjoying significant returns.