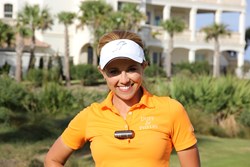 Flagler Beach, FL (PRWEB) December 16, 2013
Tee Times USA brings you a series of Hot Golf Tips from LPGA Touring Professional Kathleen Ekey helping golfers improve consistency and simplify techniques. Kathleen will demonstrate all the basic shots and situations golfers face regularly plus provide insight into how to deal with and execute shots that are very challenging for the average golfer, as well as the low handicap. Kathleen's Hot Golf Tips detail how to deal with the mental side of golf and avoid making common swing mistakes. Her tips are fun, substantive, and easy to remember when taking them to the course.
The instructional series of hot golf tips will include areas of the game where golfers give away the most shots. Kathleen will demonstrate how to deal with first tee jitters, hit a basic chip shot, bunker shot, aim on a putt, proper club selection, playing the high percentage shot, dealing with terrain changes, avoiding the dreaded fat shot, and how to account for the wind while swinging within yourself. Tee Times USA will share Kathleen's special tip on how to generate an extra 10-20 yards on your driver with her power move. Individual Hot Tips will be posted regularly to the Tee Times USA home page at http://www.teetimesusa.com.
Kathleen Ekey, 27, is a Full-Time member of the LPGA Professional Golf Tour. In 2013, Kathleen shot a course record 64 in the CN Canadian Women's Open and appeared in Sports Illustrated Most Beautiful Women in Golf. In 2011 Ekey won twice on the Symetra Tour, The Titan Tire Challenge and Alliance Bank Golf Classic in route to winning the Money Title. A 2008 graduate of The University of Alabama, Ekey set an individual Alabama tournament record in 2007 with a 54-hole score of 203 (-13) at the Crimson Tide Classic to win the event, in that same tournament also set the Alabama single round record with a score of 65 (-7) and was named the Golfweek and SEC Player of the Week. Kathleen started playing golf at the age of 3 and credits her parents as the people who most influenced her career. Her hobbies outside of golf includes dance, theater, football, hockey, working out/pilates/yoga, cooking, reading, and working with kids. If she could be on any television show it would be Dancing with the Stars because ballet and dance were her biggest passions besides golf growing up.
About:
Tee Times USA is the world leader in custom Florida golf packages and tee times. Now entering its 23rd year, Tee Times USA books tee times, months before play at over 300 Florida golf courses and resorts. Annually, Tee Times USA books over 100,000 rounds of golf for nearly 20,000 customers. They offer hundreds of hotels and resorts in Florida which can be combined with the courses to create the ideal custom golf vacation for golfers of every budget. The most discerning golfers in the world look to Tee Times USA for access to the top resorts and private clubs. The more budget-minded traveler appreciates the insider tips and exclusive hot deals to which only Tee Times USA has access.
Tee Times USA's state-of-the-art website and booking engine, http://www.teetimesusa.com, is the most comprehensive and user-friendly website in the golf industry providing a great way to research, plan and book your golf trips. The technology is backed by Tee Times USA's Florida-based team where friendly, golf vacation specialists are standing by with helpful advice ready to provide a quote or book a golf trip by phone. The company's staff of 17 dedicated and experienced professionals work from Flagler Beach in the beautiful, ocean-front headquarters.
Tee Times USA currently produces three golf vacation guides that are distributed to over 100,000 golfers throughout the world to help plan their next golf trip. They provide marketing solutions for golf courses and resorts looking to attract more traveling golfers and ensure maximum exposure while taking advantage of the latest technology and strategic alliances with other resorts and courses. In addition, Tee Times USA serves as the private label golf package fulfillment center for marketing alliances, golf management companies and hotel brands that market themselves as golf destinations.
Contact:
For more information, contact Florida's Golf Vacation Specialists at 1888-GOLF-FLO or visit http://www.teetimesusa.com.
Media Contact:
Marc A. Bender
Tee Times USA
386-439-0001 x319
mb(at)teetimesusa(dot)com