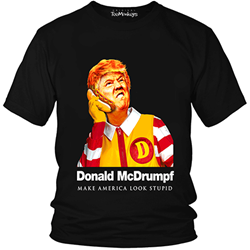 TeeMonkeys Strike Gold from Funny Political T-shirts
New York, NY (PRWEB) March 21, 2017
TeeMonkeys, a t-shirt store online with a difference, just struck gold with sales of Trump t-shirts going viral online with funny one-liners and comical graphics.
During the month of March 2017, They have added dozens of new "Donald Trump" t-shirt designs to keep up with the massive design since last year. The new expanded designs can be found at http://www.teemonkeys.com/political-right/pro-trump/ and http://www.teemonkeys.com/political-left/anti-trump/ (these include both pro & anti Trump t-shirt designs).
Their range includes very explicit anti and pro Trump messages that echo the political sentiments of millions of Americans. As a result, the t-shirts went viral in the online retail space within a few days.
Jeff Henderson, Marketing Director of TeeMonkeys said that the aim was always to capture the sentiment. "We could see early on that Trump was a major divisive political figure with pro and anti Trump supporters on our staff, presenting an obvious opportunity for a few colorful expressions," Henderson said.
According to Henderson, TeeMonkeys sold more than 20,000 t-shirts during the last presidential election in November and also added that this has grown even further since the election. He indicated that the growth in sales of the apparently funny t-shirts tells a lot about the sentiment of average Americans at the moment.
Henderson said that they often take a cue from the "media speak" and incorporate political one-liners which Trump has already used.
TeeMonkeys and Jeff Henderson can be reached at the official website at http://www.teemonkeys.com, by email at jeff.henderson(at)teemonkeys(dot)com or at +1.407.965.1635.
About the Company
TeeMonkeys is an online t-shirt store.
Website: http://www.teemonkeys.com
Contact Name: Jeff Henderson
Title: Marketing Director
E-mail Address: jeff.henderson(at)teemonkeys(dot)com
Phone Number: 407-965-1635
City: New York
Country: USA