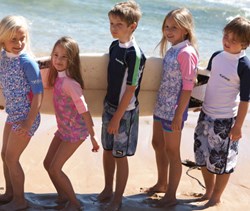 We can never do too much to prevent skin cancer deaths. So, spread the word.
Sydney, NSW (PRWEB) November 14, 2013
The forerunners in teen UV swimwear are doing what they can to help raise awareness for skin cancer as summer quickly approaches the southern hemisphere. Always willing to assist proactive initiatives such as the "I Am Sun Smart: Spread the Word" campaign launched by We Are Teachers, and supported by The Skin Cancer Foundation, Platypus Australia is telling industry cohorts and customers about the cause. The company's founder and long time sun safety advocate Ms. Karel Wheen was impressed by the campaign, "It's great to see innovative ways of getting young people to become more aware about skin cancer. This campaign is fantastic and we'll do all we can to help spread the word."
It's generally accepted that getting a teenager to do anything outside their comfort zone, let alone putting on sunscreen, is a tall order. Being highly influenced by popular media and peer pressure, young adults often recoil from instruction given by authoritative figures for fear of social ridicule.
Recognizing this obstacle in getting their message across, The Skin Cancer Foundation created an interactive education program called Sun Smart U, which is the focus of the recent We Are Teachers "I Am Sun Smart: Spread the Word" campaign.
Ms. Wheen applauds this new effort to raise awareness saying, "The Sun Smart U program focuses on the well known fact that teens are influenced more by their peers than anyone else." The interactive program is targeted for middle and high school physical education and health classes.
The kids and teen UV swimwear founder goes on to comment about the genius behind the cause, "they've taken it up a notch by awarding an iPad to those students who can come up with the most creative ways to teach their friends about sun safety. So by giving away a prize like that and supporting peer to peer education, means the campaign will be more widely spread and effective."
As soon as she saw the "I Am Sun Smart: Spread the Word" campaign, Ms. Wheen was compelled to support it, "I immediately made my staff aware, and started spreading the word to colleagues and customers. It's a brilliant cause and I truly think it's going to be more effective than previous attempts to raise awareness amongst middle and high school students."
Ms. Wheen says that she's always known part of the problem with teens shielding themselves from the sun's rays was the comfort level and trendiness of UV protective beachwear. That's why for nearly twenty years, Platypus Australia has been dedicated to making the "most fashionable swimwear and accessories infused with the highest rating of UPF50+ to block out 97.5% of harmful ultraviolet radiation."
Through awareness initiatives like the Sun Smart U program, getting teens to teach their peers about the importance of frequent applications of sunscreen and covering up with UV protective swimwear, Ms. Wheen hopes that "kids are going to be safer this summer when heading outdoors."
To assist in raising awareness about skin cancer prevention amongst middle and high school students, Platypus Australia is doing their bit to spread the word about cancer prevention. A long time sun safety advocate and expert in kids and teen UV swimwear Ms. Wheen was impressed by this year's innovative and interactive campaign by The Skin Cancer Foundation and We Are Teachers group, but comments "we can never do too much to prevent skin cancer deaths. So, spread the word." To see what style and type of beachwear products meet the exacting standards of the Nuclear Safety Agency and British Standard for Ultraviolet Radiation and Australian Radiation Protection click here. The Platypus range includes UV protective swimsuits, board shorts, skirts, sun and rash shirts, caps, and much more for infants, children and teenagers.
About Platypus Australia
Since their beginnings in 1996, Platypus Australia's quality children's UV protective swimwear has spread to the UK, Europe, Asia and USA. They're export-ready garments are internationally acclaimed and in high demand since the effects of harsh ultraviolet radiation are now well known.
Platypus Australia's beachwear gives parents peace of mind knowing their children are safe, while having fun in the sun. For more information regarding their renowned product range, visit http://www.platypusaustralia.com.